15 Daily Mail Front Pages That Perfectly Illustrate The Paul Dacre Era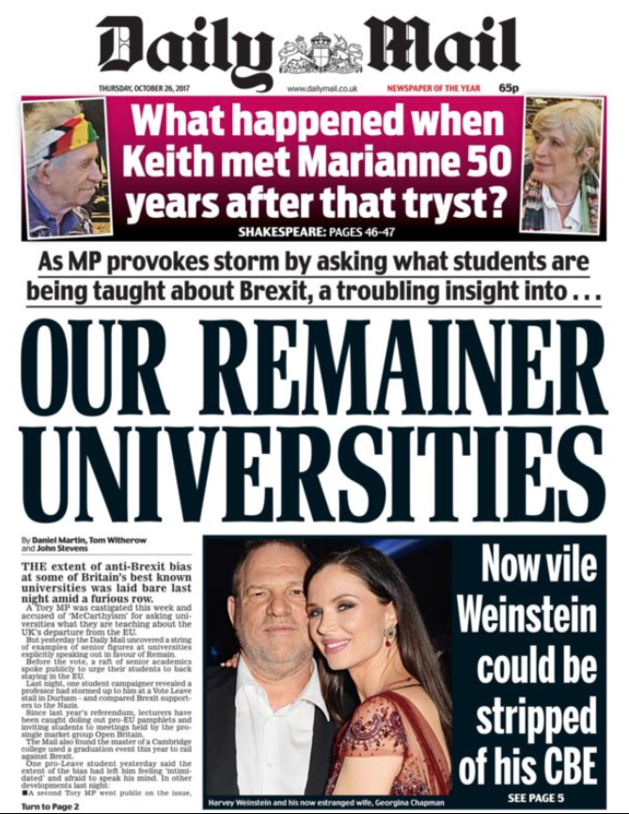 Fleet Street was stunned on Wednesday night when the Daily Mail's long-serving editor, Paul Dacre, announced he is to step down later this year.
A huge figure seemingly loved and loathed, the 69-year-old's tenure has been marked by the newspaper's forthright positions on everything from Brexit and immigration to plastic bags and, er, sandwiches.
Here is just a selection of the front pages that underline the editor's unflinching attitude, many of which have infuriated social media in recent years.
On Brexit …
The paper has been staunchly pro-Brexit, a stance that has gone into overdrive since the referendum as it has single-handedly popularised the term 'Remoaner'.
This is how it reacted when the Supreme Court ruled MPs should vote on the Brexit deal:
… and when Theresa May called a snap general election …… and when Tory MPs voted in favour of a veto on the Brexit settlement …… and its ire extended to universities.Its striking front pages could also be deployed during moments of tragedy, including the 2005 London bombing.Of its many campaigns, its most successful was over the call for justice over the Stephen Lawrence murder.
It called five suspects in the racist killing of the teenager "murderers".
Gary Dobson and David Norris were convicted of murdering Lawrence in 2012 and are serving life sentences.
More recently, it has been at the forefront of the campaign to curb single-use plastic, which ministers have sought to ban.At times, the front pages have been just plain bonkers …
… like when supermarkets revealed they were recruiting from Eastern Europe …
… and promoted accusations of sexism.The European Court of Human Rights has been a regular cause of outrage …… as has the Labour Party under 'Red Ed' Miliband …… and more so under this "troika" …… and 'Welfare UK' …… and immigration. …
Source:: The Huffington Post – UK Entertainment
(Visited 3 times, 1 visits today)