Panicked 999 Call Audio Released As Part Of Grenfell Tower Inquiry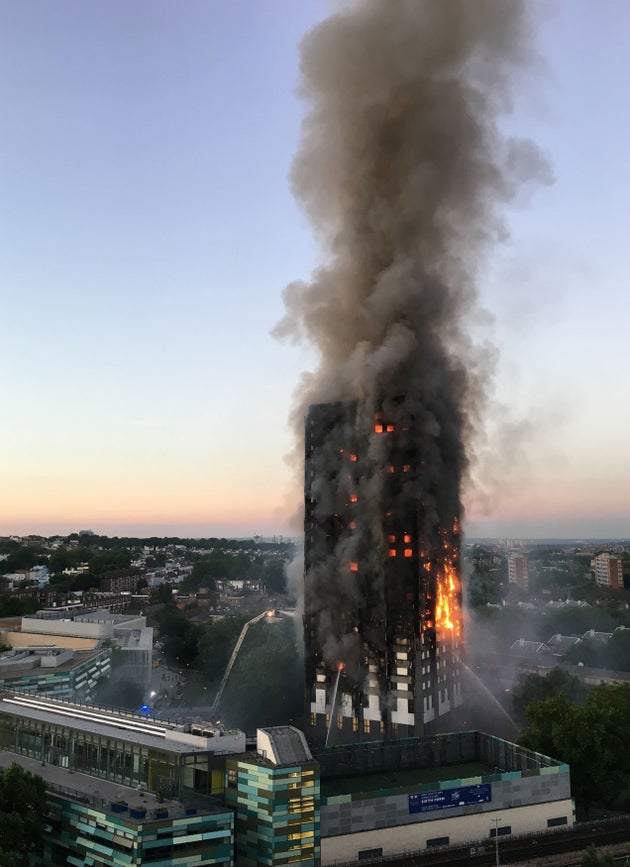 A compiled log of emergency calls, amateur video and shocked eyewitness accounts from the night of the blaze has been released to the public as part of the Grenfell Tower fire inquiry.
Some of the footage shows the blaze travelling quickly up the high-rise as weeping and screams can be heard in the background.
The video was released as part of the first day of evidence hearings in the public inquiry, alongside five new reports detailing the source of the fire, the spread, the role the cladding of the building played in the blaze, and whether the building was in line with safety regulations.
The audio recording of the 999, a man tell the operator: "Hello, hi there is a fire in flat 16 Grenfell Tower."
"Sorry, a fire where?" the operator replies.
"Flat 16 Grenfell Tower, in the fridge," the man replies.
He then tell the operator the postcode, and then says "come quick please".
He tells her: "Quick, quick, quick, quick."
The operator tells him: "They're on their way," and tells the man to wait outside.
Prof Luke Bisby's report contains a video annexe containing audio of the originial 999 call made from flat 16 where the fire broke out: https://t.co/YAZDbIUwhn
— Tom Clarke (@TomClarke_ITV) June 4, 2018
Devastating conclusion on fire doors from Dr Lane: "I conclude all the flat entrance fire doors from level 4 to 23 were non-complainant" In 2011 original fire doors were replaced as part of earlier refurbishment.
— Tom Clarke (@TomClarke_ITV) June 4, 2018
Making his opening remarks Richard Millett QC, counsel to the inquiry, said: "The fundamental question which lies at the heart of our work is how, in London in 2017, a domestic fire developed so quickly and so catastrophically that an entire high-rise block was engulfed, and how it was that 71 people lost their lives in a matter of hours, leaving family and friends in shock, grief and bewilderment."
Millett said the Grenfell probe was the "largest public inquiry ever established" in terms of numbers of participants.
There are 533 individual core participants, of which 21 are children who have not been named. Some 29 organisations are core participants, including 19 commercial bodies, eight public bodies and two trade unions.
He said the inquiry must proceed quickly "in light of the obvious risk to public safety posed by exterior fires on residential tower blocks".
In January another person died …
Source:: The Huffington Post – UK Entertainment
(Visited 3 times, 1 visits today)