Every Grenfell Resident 'Should Have Been Evacuated Within 46 Minutes'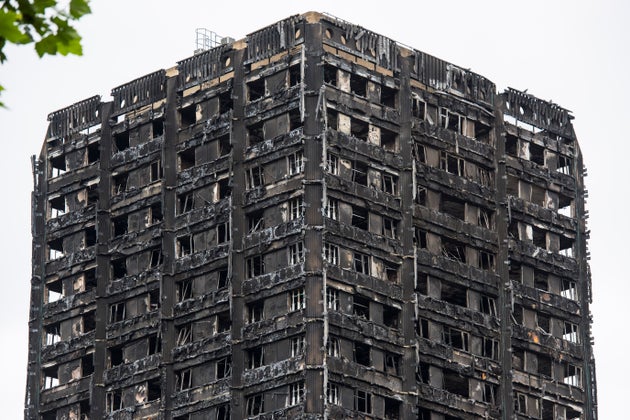 An expert has found that the "stay put" strategy pursued by the fire service during the blaze at Grenfell Tower fire "effectively failed" barely half an hour after the fire started at 1.26am.
Dr Barbara Lane's report was submitted to the Grenfell Tower Inquiry, and finds that all residents should have been evacuated much earlier after the approach failed within around 30 minutes of the fire starting.
Dr Lane said she was "particularly concerned" by the delay after 2am, when a major incident was declared, until 2.47am before the advice was officially changed to total evacuation.
The stairwell – Grenfell Tower's only escape route – was "smoke-logged from 1.40am onwards", Dr Lane found. The advice was eventually abandoned at 2.47am.
Dr Barbara Lane's timeline:
00.54 – first 999 call
01.15 – "The principles of 'stay put' can be considered to have started to fail"
01.26 – 'Stay put' had "substantially failed"
02.47 – 'Stay put' abandoned
Dr Lane added that there also needs to be "serious and urgent" consideration to changing the current approach in buildings enveloped in similar material to Grenfell.
The fire safety engineer recommended that blocks of flats should have an automatic or manual means of raising an alarm or providing voice alarm announcements, as currently it is not possible to easily communicate changes in advice.
On the night of June 14, when the fire broke out, Lane said was "not clear at this stage how the 'all out' message was communicated to residents who were still in the Tower".
Firefighters may have also contributed to the spread of fire and smoke into the stairwell by leaving doors ajar as they fought the blaze, Dr Lane found.
She said current evidence indicates some of the stair doors "were ajar as firefighting hoses were running from the stair into the lobby.
"However, I currently do not know the number of doors involved, nor which specific doors, nor for how long this opening may have occurred. I cannot yet conclude whether this made a significant contribution."
Dr Lane's report is one of five made available on Monday morning, all of which are examining how the fire took hold with such deadly effect.
She also claimed that the key players involved in the 2016 refurbishment had not ascertained how the new cladding system would behave in a fire.
Tests showed the materials forming the cladding system, individually and together, did not comply "with the recommended fire performance" set out in guidance for a building of that …
Source:: The Huffington Post – UK Entertainment
(Visited 4 times, 1 visits today)