What You Need To Know About Postnatal Depression In Men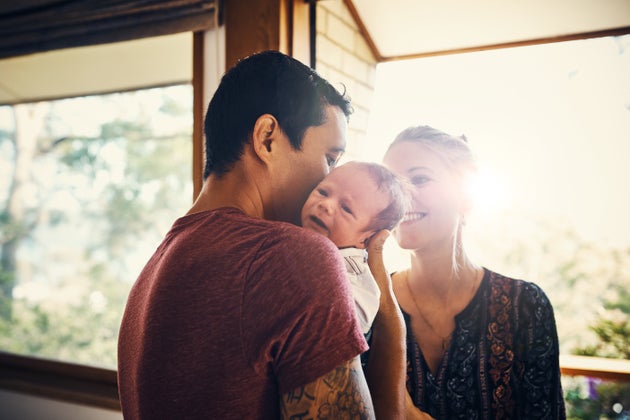 A mum whose former husband took his own life after struggling with his mental health following the birth of their first child is urging people to be aware that new dads, as well as mums, can be affected by postnatal depression (PND).
John Clayton, from Cardiff, died aged 41, in November 2016. "The culmination of being a father was a very big thing for John," his former wife Vicky Clayton said. "It's often overlooked that men suffer from postnatal depression. Everything is very much focused on mothers, as you would expect, but having lived my life the way I have over the last five years I wish there was a lot more pointers for men to access help."
There has been some research looking into male PND, albeit not as much as that for new mums. A small study by the National Childbirth Trust (NCT) found that more than one in three new fathers (38%) are concerned about their mental health. While a large study that followed nearly 87,000 families for several years, suggested that fathers are at risk of depression in the first year of parenthood, and research by CALM (the Campaign Against Living Miserably) shows that an equal proportion of mums and dads (3%) have considered suicide in their first year of parenthood.
What causes male PND?
Dr Andrew Mayers, an academic psychologist specialising in perinatal mental health at Bournemouth University, says he often finds people think PND only affects women because they assume it's hormonal, but he says it has far more to do with the whole environmental impact of having a baby.
"PND is equally true for men because there are so many things that will change in a father's life," he says. "It's about a change in relationship, change in finances and a change in responsibility." But, Mayers adds, it's also compounded by the fact many men have difficulty expressing their emotions due to ideas about "manning up", so they find it hard to express if they are struggling in their new role as a dad.
Sarah McMullen, head of knowledge at NCT, agrees, adding: "There's a huge lack of understanding. It's a huge transition and a really stressful event for dads too, because they have to be strong for their partner and new family, …
Source:: The Huffington Post – UK Entertainment
(Visited 7 times, 1 visits today)