There's A Huge Effort Under Way To Prevent A New Ebola Outbreak In Congo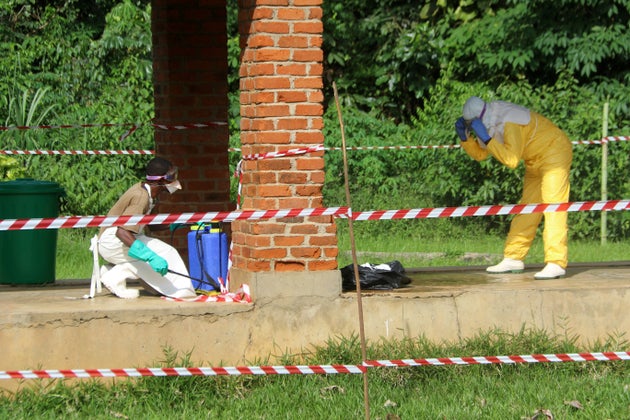 Officials from the UN are racing to prevent an Ebola outbreak in Congo, as the virus threatens to spread to a city of 10 million residents.
A World Health Organization (WHO) spokesman, Christian Lindmeier, said the UN body would convene an emergency committee on Friday to consider the international risk.
The organisation is battling logistics to keep vaccines frozen despite high temperatures and electricity problems.
The Democratic Republic of Congo's is suffering its ninth epidemic since the disease was identified in the 1970s. Experts say the current situation is alarming because of the risk of transmission via regular river transport to the capital Kinshasa, a city of 10 million people.
An experimental but highly effective vaccine is being deployed against the virus, with health workers being vaccinated first, but it needs to be kept 80 degrees Celsius below freezing.
"For now, the cold chain is guaranteed at -80 degrees until Kinshasa," the Health Minister, Oly Ilunga, told the Reuters news agency. "There is a fridge that will be prepared [on Thursday] … in Mbandaka and that will be at -80."
"This vaccine is no longer experimental. The effectiveness has been proven and validated," he added. "Now that we are facing the Ebola virus we must use all the resources we have."
The WHO expert committee will decide whether to declare a "public health emergency of international concern," which would trigger more international involvement, mobilising research and resources, Lindmeier said.
Emergency committees have been set up to advise on past outbreaks such as the 2016 Zika epidemic in Latin America and the huge West African Ebola outbreak that killed at least 11,300 people in Guinea, Sierra Leone and Liberia from 2014 to 2016.
'No magic bullet'
Mindful of criticism it received for being too slow during that epidemic, when it took months to convene an emergency committee, the WHO is moving fast on Congo's latest outbreak.
The committee can advise WHO Director General, Tedros Adhanom Ghebreyesus, on actions to be taken by Congo and other countries to try to halt the international spread of disease without unduly interfering with trade or transport.
The Kinshasa government reported the outbreak on May 8, one day after two samples tested positive, and within days the WHO was sending experts, preparing a helicopter "air bridge" to the site, and planning a vaccination campaign.
There have already been 44 suspected, probable or confirmed cases of Ebola, and 23 people have died. Most worrying is a confirmed case in …
Source:: The Huffington Post – UK Entertainment
(Visited 4 times, 1 visits today)