Grenfell Tower Fire Report Condemned For Failing To Ban Flammable Cladding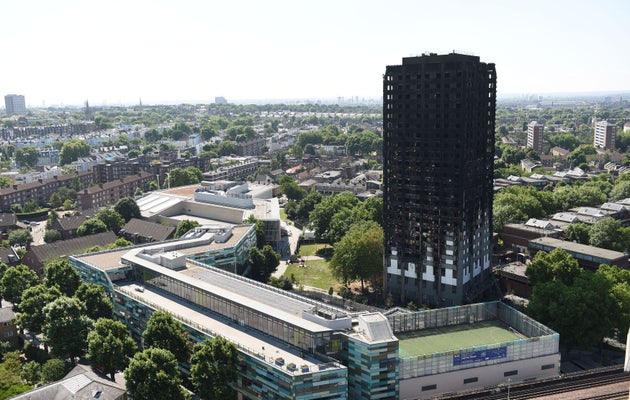 A long-awaited report on building regulations launched after the Grenfell Tower fire is being condemned as not going far enough to prevent a repeat of the tragedy, which killed 71 people in June last year.
The report by Dame Judith Hackitt stops short of calling for an outright ban on the flammable cladding blamed by many for the spread of the blaze, which broke out on the fourth floor of the west London tower block.
Instead it calls for a "wholesale change in culture" on fire safety, and greater clarity and tighter policing of guidance already in place, which says cladding must be made of material of limited combustibility.
She said: "This is a broken system that needs to be fixed. We have to put in place a new system that holds people to account … a much stronger regulatory regime that ensures that people who take short cuts or do not do what they are responsible for are held to account and see tougher sanctions as a result.
"It is a wholesale culture change. It is a much stronger regulatory regime for high-rise buildings that recognises that there is an inherently high level of risk involved."
Dame Judith said she did not think that an outright cladding ban would work, to widespread condemnation.
Art historian Dr Bendor Grosvenor described her logic as "completely bizarre. In fact, idiotic." He added: "A ban on combustible material on the outside of tall buildings is obviously needed."
"Just heard a masterclass in sidestepping a question on Today by Dame Judith Hackitt. Shameful," said James Beston. Dan Strain said: "What an absolutely painful interview with Dame Judith Hackitt on Today. Any danger of actually answering a question without changing the subject?"
Dame Judith was also variously branded "evasive and disingenuous" and an "incoherent fudge with no backbone."
Evasive & disingenuous @DameJudithH (Judith Hackitt) on #R4Today about her failure to recommend ban on flammable cladding in light of #GrenfellTowerFire. Repeatedly failed to give @MarthaKearney a straight answer. Bowing to govt. pressure over costs & construction profitability?
— Ian McNee (@IanSMcNee) May 17, 2018
Incapable of giving a straight answer to 'why not ban combustible cladding?' I give you Dame Judith Hackitt. #BBCR4today#r4today
— James Alexander (@anderjalex) May 17, 2018
Involuntarily yelling at my radio "JUST ANSWER THE ****ING QUESTION!" as @Marthakearney@BBCr4today tried over & over & over to get Dame …
Source:: The Huffington Post – UK Entertainment
(Visited 1 times, 1 visits today)