Irina Shayk in Twinset & Chopard jewels in Cannes: stunning or rumpled?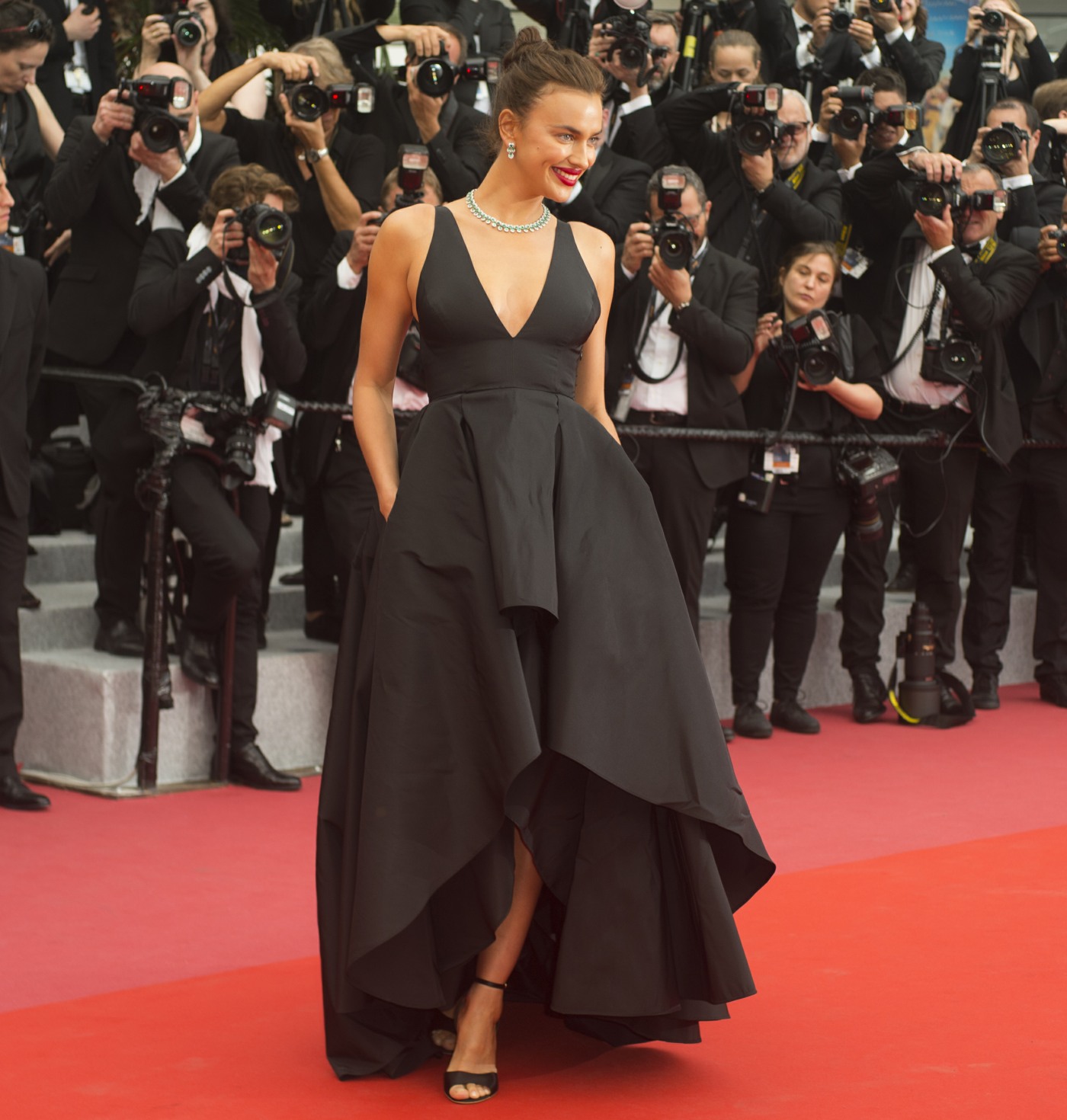 Is it just me or is this year's Cannes Film Festival already really muted? While Cannes has felt less glitzy in general the past few years, I swear that this year's Cannes feels like a gigantic yawn. Usually they blow it out for the opening night, at least. This year… not so much. Maybe Cannes has just changed so much without Harvey Weinstein using it as his hunting ground. Maybe it's just an off-year. Or maybe… Cannes just isn't a big deal anymore? But still, let's look at fun fashion and jewelry! Here are some photos from Day/Night #2 in Cannes. Most of these photos are from the big premiere of Yomeddine.
Irina Shayk is there as part of her contractual obligations as a model – L'Oreal models are always invited to Cannes – and she brought a good dose of glamour. She wore a Twinset mullet dress which looks like taffeta. Slightly rumpled taffeta, but still, it's pretty good. While she was there, she also modeled a really gorgeous emerald-and-diamond necklace-and-earring set.
Speaking of Chopard, here's Julianne Moore looking righteous in a Saint Laurent gown and a magnificent Chopard pendant necklace. I just want to FEEL that necklace. That giant stone!! AHhhh. Anyway, Julianne's look was totally solid. I'm not a huge fan of asymmetry, but she looks amazing in this gown.
This is Kiko Mizuhara and she wore a chic Dior Spring 2018 gown. I mean… I like this and it looks great on Kiko's kind of figure, but the color! This design would have looked lovely with a different color.
Louise Bourgoin in Giambattista Valli Couture. Eh. This is just Valli's take on the same old white-gown-with-matching-cape thing that was overdone like five years ago. Tom Ford did it first! Now every designer is doing it. And this is a bad version too.
Leomie Anderson in Twinset. Beautiful color – I only like bright yellow on the red carpet when it's on someone who has the coloring to pull it off. This color would have made Julianne Moore look like a dirty banana. But the actual design of the dress kind of sucks, right? It's giving me "cheap '70s negligee" vibes. …
Source:: Cele|bitchy – News
(Visited 6 times, 1 visits today)