Carrie Underwood 'was terrified of people seeing the scars' at the ACM Awards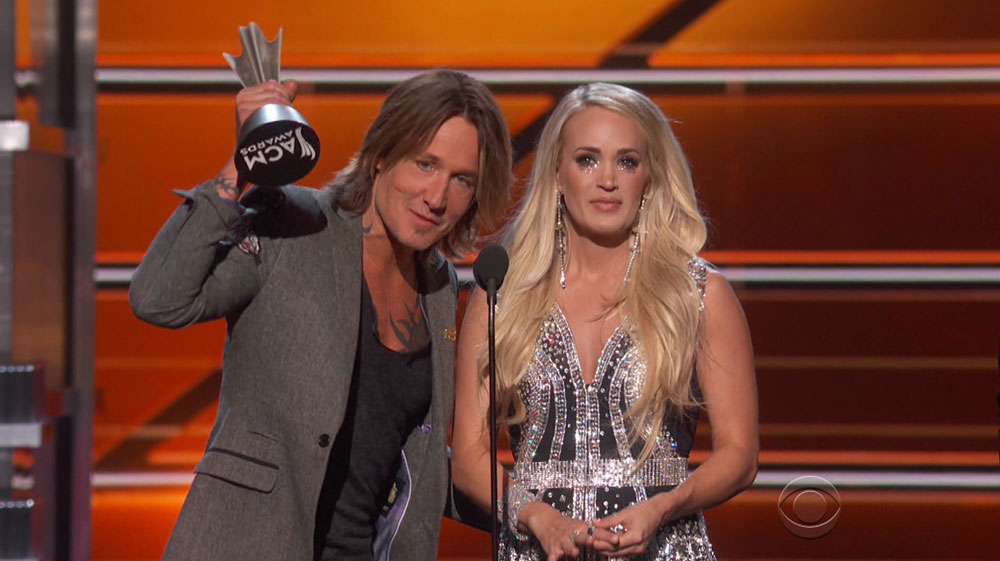 Carrie Underwood made her first post-accident appearance at the ACM Awards on Sunday. Carrie wrote earlier this year that she was suffering facial injuries following an accident at home last fall which she called "gruesome." She told fans "I want you all to understand why I might look a bit different." All the photos she posted and her appearance Sunday seemed to belie that, and she looked absolutely fine. Of course it's possible that everything she told us was true, that she did have very visible injuries, that she worked to conceal them and to control what the public saw of her, and that she was self conscious about it. That's what a new story on People claims, that Carrie was so scared that people would see the scars on her face.
A Nashville source told PEOPLE that Underwood worried about the reaction she'd get.
"She ended up skipping the red carpet because she didn't want to be bombarded with questions about the accident," the insider said. "It's the most shaken anyone has ever seen her … this whole ordeal. She was terrified of people seeing the scars."
The source added, "Her hair and makeup team must've been under so much pressure."
A rep for Underwood did not immediately return PEOPLE's request for comment.
Many fans remarked on social media that they didn't notice a difference in the country singer's looks.
[From People]
Some of you said you could see faint scars near Carrie's temple but she looked the same to me. I think she benefited from the fact that she's always worn so much makeup prior to her accident and could use the best makeup and makeup artists to cover up her scars without looking much different. This is a time to give her the benefit of the doubt, to believe her story and her account of how it affected her, and to also believe that she worked hard to hide her injuries from the public.
Carrie's new single, "Cry Pretty," is a battle cry for women working to hide their scars and to hide their pain. She's telling us what she's gone through. E! reports that the entire audience was standing for Carrie during her performance, that they remained quiet and rapt as she sang and that they broke out in "uproarious applause" as soon as she was finished. Hers was the best received performance of the night.
Source:: Cele|bitchy – News
(Visited 6 times, 1 visits today)