Speaker Bercow Slaps Down Tory MP Who Questioned Jeremy Corbyn's Patriotism Over Syria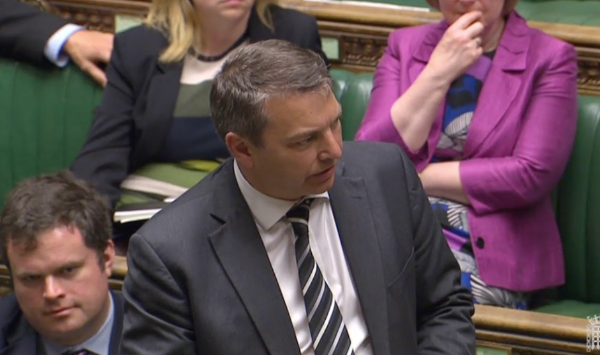 Commons Speaker John Bercow has slapped down a Tory MP who questioned Jeremy Corbyn's patriotism over Syria.
Dartford MP Gareth Johnson said that the Corbyn had attacked the UK government so much that some wondered "whose side is he on – theirs or ours?"
The Tory backbencher's words came as the Labour leader also came under attack from his own MPs after he declared that military action on humanitarian grounds was "legally questionable".
During a highly charged, three-hour session, Johnson said: "Would the Prime Minister agree with me that it's frankly astonishing that over the past week the Leader of opposition has spent more time and effort attacking us than attacking President Assad?
"And will she also agree with me that it's hardly surprising that some people question whose side he is on – ours or theirs?"
But the Speaker swiftly reprimanded the Conservative MP's decision to "effectively to attack someone else's motives".
"We are democrats in this place and we attack each other's political positions but we should not impune each other's integrity," Bercow said.
He refused to allow Johnson to reply. "No response is required from the Honourable Gentleman. We should leave it there."
A senior Labour source told HuffPost UK: "The Speaker was right to call out this baseless Tory smear, which says about Gareth Johnson than it does about Jeremy."
Earlier, Labour MP Jess Phillips expressed her dismay at those who sought to make domestic political capital out of the Syrian chemical attack.
"I rise to ask that everybody in this place tries to have better faith in each other in critiquing whether they think this is right or wrong.
"Because this is not an opportunity for politics about the local elections, this is about children being gassed. And on both sides I have heard ridiculous politicking and bad faith.
"People need to have good faith in us. It is not about our voices, it's about the Syria people's voices".
During the Commons debate, Labour backbenchers Mike Gapes, Chris Leslie, Mary Creagh and John Woodcock all warned their leader that he was abandoning Labour's "noble tradition" of intervening to help civilians brutalised by dictators.
Theresa May told MPs that the use of chemical weapons in Syria was "a stain on humanity" and said that the legal basis for the RAF air strikes at the weekend lay in the fact that there had been "extreme humanitarian distress on a large scale, requiring immediate and urgent relief"
Corbyn was resolute that …
Source:: The Huffington Post – UK Entertainment
(Visited 2 times, 1 visits today)