Esther McVey Sparks Outrage After Claiming 'Rape Clause' Benefits Women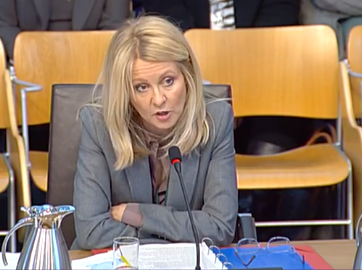 Understandable anger at Holyrood committee this morning. Esther McVey completely deaf to the human impact of Tory welfare cuts. pic.twitter.com/QgcFtSzQH5
— Fergus Mutch (@Fergoodness) April 16, 2018
Tory minister Esther McVey has been called "disgraceful" for suggesting the controversial 'rape clause' rule benefits women.
The Work and Pensions Secretary was defending the controversial two-child benefit cap policy in front of Holyrood's Social Security Committee on Monday.
McVey told the Scottish Parliament the policy offers rape victims "double support" – money and "an opportunity to talk" about the assault.
Under the rule, families can claim child Tax Credits or Universal Credit for their first two children only. Parents can only access benefits for a third in special circumstances, including if they disclose they were raped.
McVey's comments came during a tense session in which the committee chairwoman twice had to suspend proceedings due to heckles from the public gallery.
When asked about the two-child policy, McVey told MSPs:
"People will be supported and shown to the various other organisations – and again this could give them an opportunity to talk about maybe something that's happened that they never had before.
"So, it's potentially double support there – they're getting the money they need and maybe an outlet they might possibly need."
Women's charities have tried to fight the "rape clause" rule, with many calling it "degrading" and "inhumane" but the Court of Appeal ruled in the Government's favour in March.
The SNP called McVey's comments "jaw-dropping" while Labour said they were "simply skin-crawling."
The minister was also asked about benefit sanctions and Universal Credit, at which point the public gallery erupted and shouts of claimants who have taken their own lives were called out.
Labour and SNP MSPs have spoken of their alarm at McVey's answers.
SNP MSP George Adam said of the two-child policy answers: "This was a jaw-dropping comment – the Tories clearly aren't listening to the absolute outrage this despicable policy is causing, or the stark warnings about its impact.
"It's time the Tories saw sense and scrapped their two-child policy and the rape clause."
Labour MSP Pauline McNeill called on the Tories to abolish the two-child policy, adding: "This was a disgraceful performance from a Work and Pensions Secretary who is completely out of touch with the reality of life for low income women on tax credits.
"To badge up the vile rape clause as some sort of …
Source:: The Huffington Post – UK Entertainment
(Visited 10 times, 1 visits today)