Watch: Schools Minister Nick Gibb Fails To Answer Simple Maths Question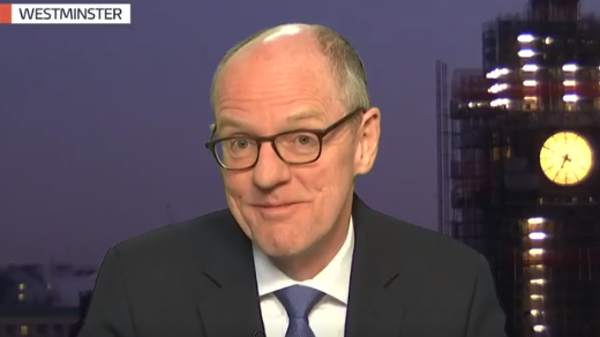 Schools Minister Nick Gibb was warned there is room for improvement after he failed to answer a simple maths question live on air.
Gibb was trumpeting new Government plans for more times tables tests for eight and nine-year-olds when he spoke to several broadcasters on Wednesday.
The Tory MP was asked to answer a multiplication problem by presenters on ITV's Good Morning Britain, LBC, Talk Radio and Sky News, but declined.
Asked what eight times nine is, he told GMB: "I'm not going to get into this, I've learned through bitter experience never to answer these kinds of questions on live television.
"I'm very tempted to but I'm not going to."
So we'll never know if @NickGibbUK does know his times tables as he refuses to answer 8×9 on @GMB (it's 72 by the way Mr Gibb in case you get asked it later… )
— Charlotte Hawkins (@CharlotteHawkns) February 14, 2018
Seriously though, Nick Gibb. Times tables? Is it 1950? What about kids learning the logic of maths, so they can work things out for themselves. @BBCRadio4@BBCr4today
— Alison McGovern (@Alison_McGovern) February 14, 2018
Thousands of primary school children will take times tables tests this spring. Does the Minster of State for Schools know the answer to 6×7? @JuliaHB1@NickGibbUK Find out below ▼ pic.twitter.com/eBaNyoKa8g
— talkRADIO (@talkRADIO) February 14, 2018
So Nick Gibb wouldn't answer 9×8 on Good Morning Britain when talking about the times table test. Apparently ok to put pressure on kids but not the education minister
— Sarah Curtis (@scurtis07) February 14, 2018
The thing is adult MP Nick Gibb doesn't want the pressure of being tested on his times tables.
But Nick Gibb wants children to be tested on their times tables.
Because he thinks the pressure is good for them.
— Dan Hallsworth (@DanH_9) February 14, 2018
Schools Minister @NickGibbUK refuses to answer one single multiplication question on @BBCBreakfast this morning, yet expects 8 & 9yr olds to sit his Government tests which will have no value to children's education. Says everything really.
— rob kelsall (@rob_kelsall) February 14, 2018
Gibb was then challenged on why young children should have to do something he was not comfortable with.
The minister said: "No eight-year-old or nine-year-old would be doing it on live television, and the results of the check won't …
Source:: The Huffington Post – UK Entertainment
(Visited 10 times, 1 visits today)