Donald Trump Supporters Disrupt Sadiq Khan Speech At Fabian Society Conference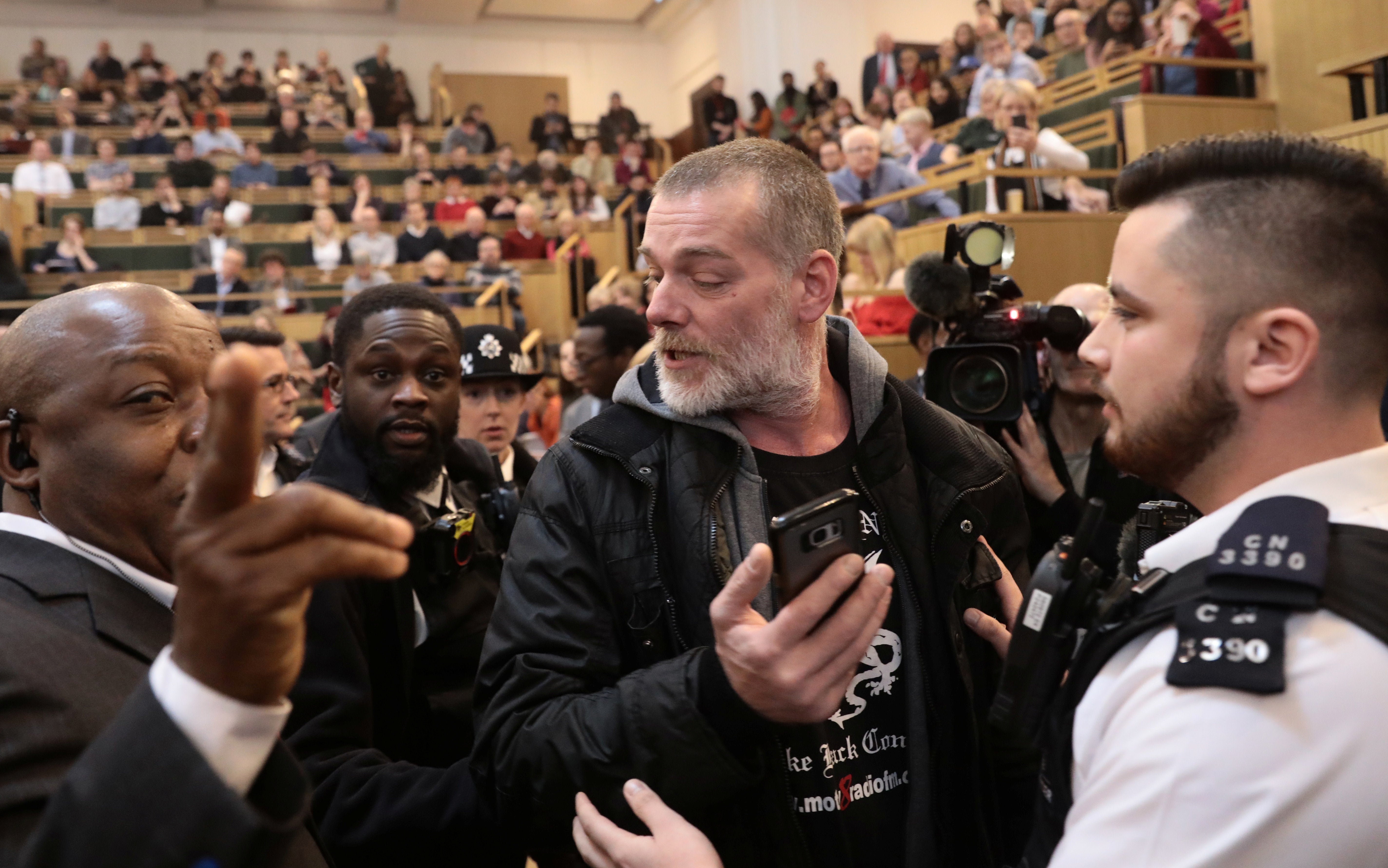 Donald Trump supporters have disrupted a speech by Sadiq Khan, after the London Mayor said the president wasn't welcome in London.
Trump said he was cancelling a visit because he did not want to open the new US embassy but Khan said it because the president feared mass protests and had "got the message".
As he was due to give a speech to the Fabian Society Conference in London about gender equality on Saturday morning, a group of protestors suddenly began disrupting the event.
One held a "NO 2 EU" number plate with English and British flags.
Khan had just stood to speak when the group stood and heckled him, one holding up a US flag.
They shouted they wanted the mayor to be arrested.
The mayor sat as the moderator stood and tried negotiate with them to stop.
An impromptu counter-demonstration began as other people began waving EU flags.
@Labour4EU standing strong for @SadiqKhan. We will not let our debate be ruined by racists #fab18 .@ProgressOnlinepic.twitter.com/SlomsRpews
— Henna Shah (@hennalikespie) January 13, 2018
Drama at the #fab18 conference. Protesters arrive, deservedly booed, refuse to leave, and now some top lads have got their EU flags out to stage a counter-protest. Sadiq Khan and the rest looking a bit annoyed, which is understandable pic.twitter.com/1h1aErJwJg
— Keir (@keirbradwell) January 13, 2018
The police were called and the demonstrators were removed to cheers and applause from the audience.
Having sat flicking through a newspaper, Khan then got back up to speak, calling the hecklers "very stable geniuses".
The group told ITV News' Paul Brand that they were called "White Pendadragon" and thought the Fabians were "subverting society".
They denied being far right or racist, despite suggesting to Brand that Khan's religion meant he could not be mayor.
Sadiq Khan's speech at @thefabians conference interrupted by protest by group called White Pendragon who tell me Fabians are subverting society. pic.twitter.com/AJRBBu3CqP
— Paul Brand (@PaulBrandITV) January 13, 2018
They claim they are not a racist group, nor far right. But they told us Sadiq Khan has no right to be Mayor of London, referencing his religion.
— Paul Brand (@PaulBrandITV) January 13, 2018
After his speech, in which he warned the rise of populism threatened gender equality, Khan gave an interview for Left Foot Forward, in which he said it was for Trump to decide whether he wanted to visit.
Khan added: "The US …
Source:: The Huffington Post – UK Entertainment
(Visited 9 times, 1 visits today)