Here Are The 2018 Golden Globe Awards Winners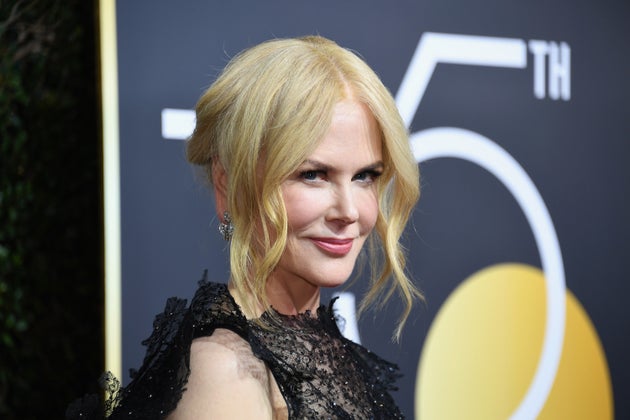 Stars across film and TV are filling the Beverly Hilton in Los Angeles for the 75th Golden Globe Awards. The typically boozy and lighthearted affair has a more serious tone this year amid the sexual harassment #MeToo movement in Hollywood. Honorees are hitting the red carpet wearing black and donning pins to protest rampant harassment and inequality in Hollywood.
Plenty of celebrities are on hand to present winners with their trophies. Check out all the nominees and winners below.
We'll be updating the winners throughout the night.
FILM
Best Motion Picture, Drama
"Call Me By Your Name"
"The Shape of Water"
"Dunkirk"
"The Post"
"Three Billboards Outside Ebbing, Missouri"
Best Motion Picture, Musical, or Comedy
"Get Out"
"Lady Bird"
"The Disaster Artist"
"I, Tonya"
"The Greatest Showman"
Best Performance By an Actress in a Motion Picture, Drama
Meryl Streep, "The Post"
Sally Hawkins, "The Shape of Water"
Jessica Chastain, "Molly's Game"
Frances McDormand, "Three Billboards Outside Ebbing, Missouri"
Michelle Williams, "All the Money in the World"
Best Performance by an Actor in a Motion Picture, Drama
Timothée Chalamet, "Call Me by Your Name"
Daniel Day-Lewis, "Phantom Thread"
Tom Hanks, "The Post"
Gary Oldman, "Darkest Hour"
Denzel Washington, "Roman J. Israel, Esq."
Best Performance By an Actress in a Motion Picture, Musical or Comedy
Judi Dench, "Victoria & Abdul"
Margot Robbie, "I, Tonya"
Saoirse Ronan, "Lady Bird"
Emma Stone, "Battle of the Sexes"
Helen Mirren, "The Leisure Seeker"
Best Performance By an Actor in a Motion Picture, Musical or Comedy
Steve Carell, "Battle of the Sexes"
Ansel Elgort, "Baby Driver"
James Franco, "The Disaster Artist"
Hugh Jackman, "The Greatest Showman"
Daniel Kaluuya, "Get Out"
Best Performance By an Actor in a Supporting Role in a Motion Picture
Willem Dafoe, "The Florida Project"
Armie Hammer, "Call Me by Your Name"
Richard Jenkins, "The Shape of Water"
Christopher Plummer, "All the Money in the World"
Sam Rockwell, "Three Billboards Outside Ebbing, Missouri" – WINNER
Best Performance by an Actress in a Supporting Role in a Motion Picture
Mary J. Blige, "Mudbound"
Hong Chau, "Downsizing"
Allison Janney, "I, Tonya"
Laurie Metcalf, "Lady Bird"
Octavia Spencer, "The Shape of Water"
Best Director, Motion Picture
Guillermo del Toro, "The Shape of Water"
Martin McDonagh, "Three Billboards Outside Ebbing, Missouri"
Christopher Nolan, "Dunkirk"
Ridley Scott, "All The Money in the World"
Steven Spielberg, "The Post"
Best Screenplay
"The Shape of Water"
"Lady Bird"
"The Post"
"Three Billboards Outside Ebbing, Missouri"
"Molly's Game"
Original Score, Motion Picture
"Three Billboards Outside Ebbing, Missouri"
"The Shape of Water"
"Phantom Thread"
"The Post"
"Dunkirk"
Best Original Song, Motion Picture
"Ferdinand" ("Home")
"Mudbound" ("Mighty River")
"Coco" ("Remember Me")
"The Star" ("The Star")
"The Greatest Showman" ("This Is Me")
Best Motion Picture, Animated
"The Boss Baby"
"The Breadwinner"
"Ferdinand"
"Coco"
"Loving Vincent"
Best Motion Picture, Foreign Language
"A Fantastic Woman"
"First They Killed My Father"
"In the Fade"
"Loveless"
"The Square"
TV
Best Television Series, Drama
"The …
Source:: The Huffington Post – Canada Travel
(Visited 6 times, 1 visits today)