Labour MP Andrew Gwynne Calls Iranian Regime 'Abhorrent' As Corbyn Maintains Silence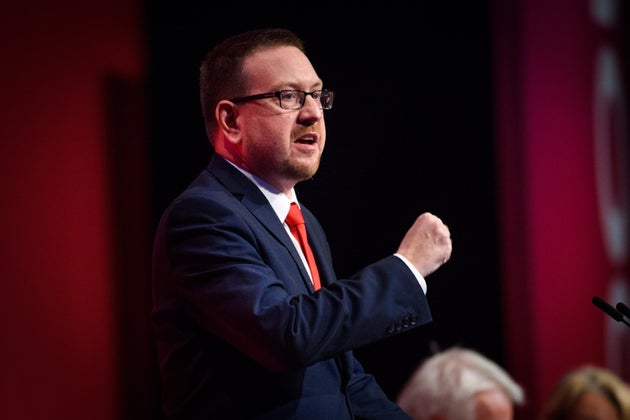 Labour's campaigns chief has condemned Iranian regime as "abhorrent" but has warned some people "behind the protests were not "moderate and liberal".
Jeremy Corbyn has been criticised for remaining silent about protests in Iran against the government, while his Shadow Foreign Secretary Emily Thornberry claimed it was unclear who has "the white hats".
The Iranian regime supports the execution of gay men and has used tear gas and water cannons to quell protests.
The unrest in Iran has left more than 20 people dead and 1,000 arrested in Tehran but was orginially sparked by the economic hardship facing citizens.
Andrew Gwynne said he would be "very surprised" if his boss Jeremy Corbyn did not call out the Iranian regime's policy of hanging of gay men, but defended Labour's decision of not uniformly back protesters, claiming Labour had to be "very careful".
Speaking on BBC 5 Live's Pienaar's Politics programme, the Shadow Communities and Local Government Secretary, said: "Look, the Iranian regime, much of what it stands for I find completely abhorrent – the hanging of gay men, for example.
📻 @bbc5live 📻@GwynneMP on Iran "Its above my pay grade to step into Middle Eastern politics which is fiery at the best of times." "I would be surprised if Jeremy Corbyn doesn't condemn the fact that gay men are hanged by the Iranian regime." pic.twitter.com/DJOtAiZUQq — John Pienaar (@JPonpolitics) January 7, 2018
"I think they should be called out and condemned…"
The Iranian government has restricted the use of social media sites, including Telegram and Instagram in a bid to stamp out protests. The unrest has also spread over 80 cities and towns and violent clashes between citizens.
Iran, however, is involved in several wars abroad as the country battles with Saudi Arabia for dominance of the Middle East.
When pressed by the BBC's Deputy Political Editor John Pienaar as to why Corbyn had not explicitly targeted the Iranian regime's response to the protests Gwynne somewhat ducked the question.
He said: "I would be surprised if Jeremy Corbyn doesn't condemn the fact that gay men are hanged by the Iranian regime. That is abhorrent and it runs against everything that the Labour Party stands for."
Asked by John Pienaar why Labour as a party had not condemned the regime, Gwynne said: "I just have."
Pienaar went on to ask why Labour specifically was not supporting protests, which are calling on the Government for a better standard of living and a better level of …
Source:: The Huffington Post – UK Entertainment
(Visited 4 times, 1 visits today)