Public Sector Pay Gap Lift And Inflation Pay Rise 'Would Generate Billions In Taxes And Spending,' IPPR Says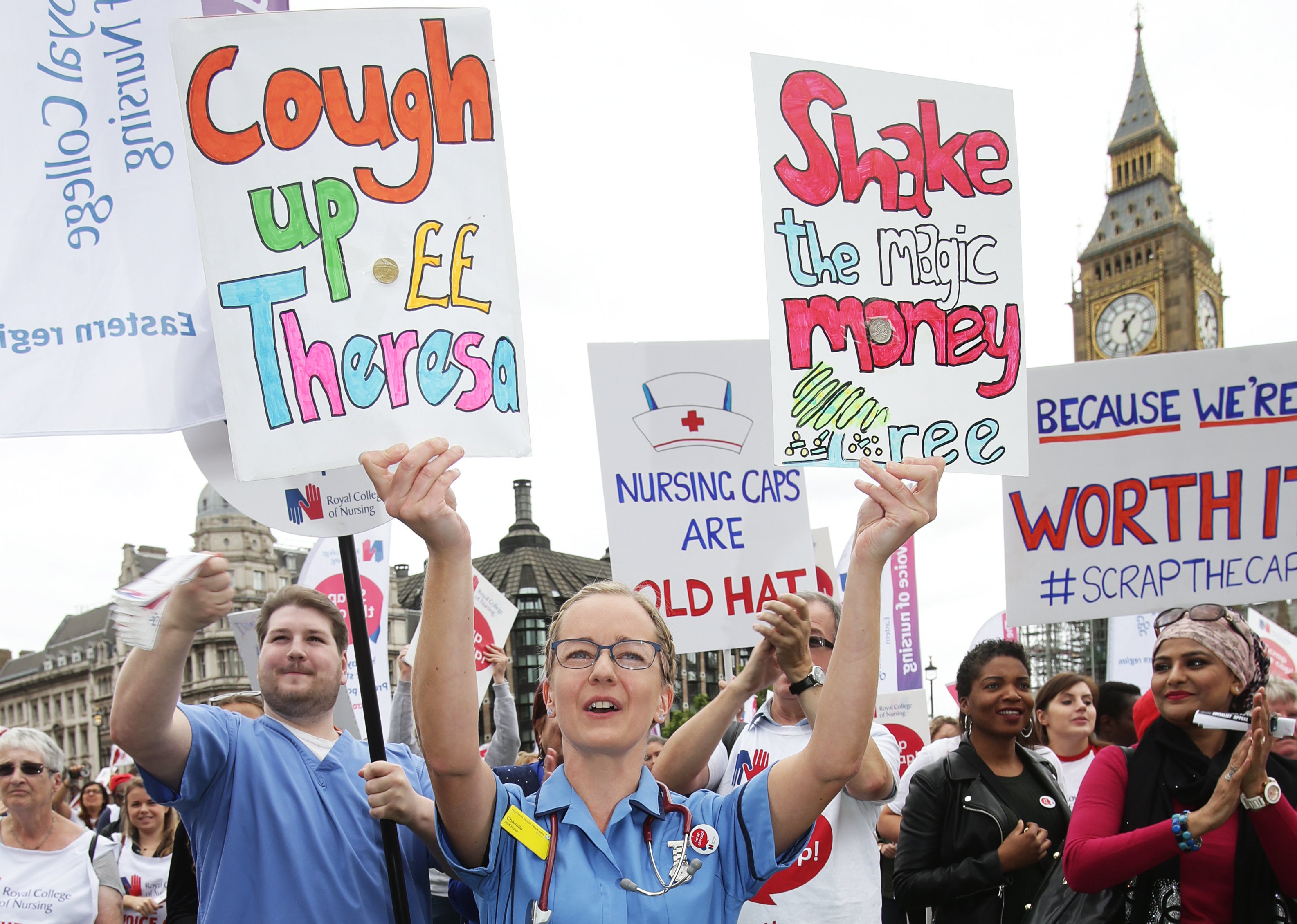 Axing the public sector pay cap and raising it in line with inflation would generate £800m more in spending and bring in more taxes to cover a "significant portion" of the cost, according to new research.
Theresa May's Government faced growing pressure to scrap the controversial cap that limited all public sector workers, from police officers to doctors, to no more than a 1% annual increase in pay as inflation soared.
The measure was introduced under George Osborne's austerity programme as the chancellor said the public sector "must share the burden as we pay to clean up" the recession.
May's Government caved to pressure in September, ditching plans to continue the cap until 2019/20 and offering a 1.7% rise for prison officers and 2% for police officers.
But think tank the Institute for Public Policy Research (IPPR) has called for salaries to rise by inflation until workers are compensated for the real terms loss in earnings they have suffered since the cap came in.
According to its analysis published on Wednesday, raising their salaries in line with inflation would generate £800m in extra taxation and lower welfare payments by 2019/20, which would cover nearly 40% of the cost of raising the cap.
Ahead of Philip Hammond's Autumn Budget next week, the left-wing think tank said the two-year £5.8bn cost of lifting the cap and raising pay by inflation would fall to £3.3bn when the extra cash was taken into account.
The extra £2.5bn for the Treasury would come from £2.25bn in more tax and National Insurance paid by those receiving higher wages and £250m raised from the extra £800m in spending, the IPPR concluded.
It called for the Government to ditch the cap and give public sector workers a "double lock" – a pledge to raise their salaries by the Consumer Price Index-defined inflation or private sector pay, whichever is highest.
If public sector pay rose by 1% more than private sector pay, it would cost the Government £12.7bn but, the IPPR said, the final cost would be £7.2bn and the economy would grow by £1.75bn.
Joe Dromey, IPPR senior research fellow and co-author of the report, said: "The public sector pay cap cannot continue. The 'double lock' for public sector pay would ensure that no public servant would see their pay fall further behind inflation or the private sector.
"But this must be funded, otherwise the pay rise public sector workers deserve would come at the cost …
Source:: The Huffington Post – UK Entertainment
(Visited 7 times, 1 visits today)