E!: Jennifer Garner 'very annoyed' with Ben Affleck, tries to shield kids from press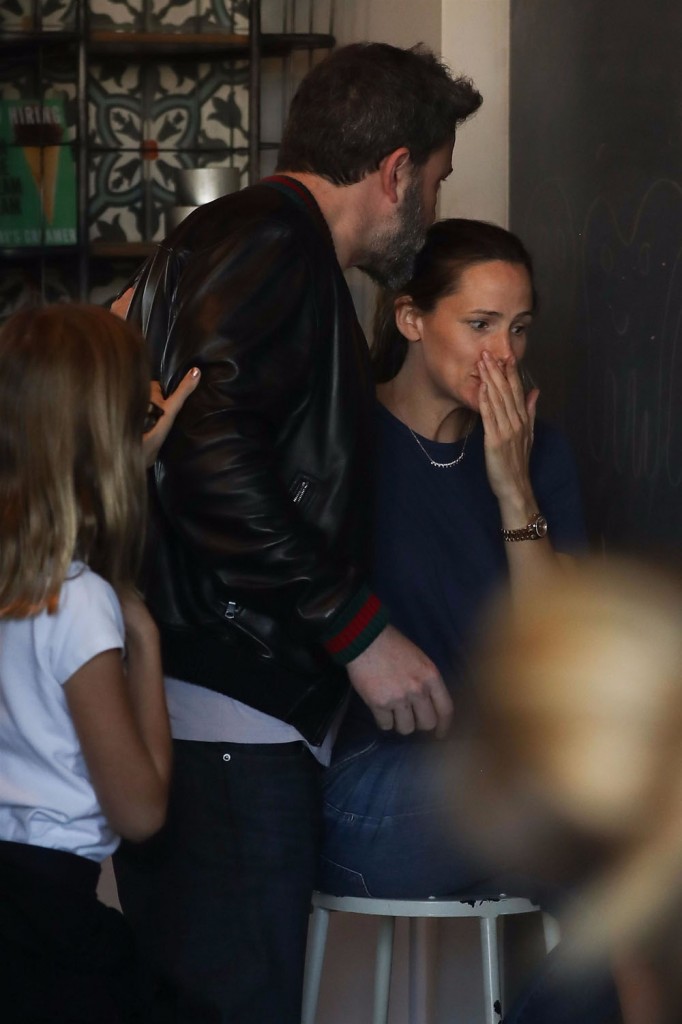 These are photos of Ben Affleck and Jennifer Garner taking their kids out for ice cream yesterday. It looks like he's breaking bad news to her, but that could be a show for the cameras. Surely she'd heard all the news by then and this also must be a planned outing because multiple photos agencies had these photos. For all of the people blaming Garner for her husband being an abusive jackass who grabs women – stop it. Really, just stop. A man is responsible for his own actions. Yes women can get into codependent relationships with those type of men, but those type of men are also extremely skilled at being charismatic and saying just the right thing when needed to hook the person. They're skilled at also making women feel like they have no other options, not that that's the case with Garner, just that you can't blame an abuser's partner.
Garner worked extremely hard to preserve Affleck's public image and his relationship with his children in the wake of their drawn out separation. She gave it her all, for good or bad, and in their statements to the press both of them have emphasized how their kids come first. So how does Garner feel now that there are two incidents getting press of Affleck grabbing women on camera and at least one more incident where he (allegedly, but come on) grabbed a well known makeup artist at a party? She's pissed off, understandably. E! has the exclusive, and they've had plenty of insider quotes from her in the past so I believe them.
Garner "is very annoyed because it just means more attention on her and the kids as a result of Ben's actions," a source told E! News exclusively on Thursday. "She tries to shield them from any and all publicity and scrutiny. She's taking her kids to school and to all of their activities. As far as they know nothing has changed and all is well. That is always her goal but she's been pretty frustrated with him."
[From E! Online]
That's it, it's about the kids and she wants to wash her hands of Affleck but she can't because he keeps f-king up. She worked on that dude for over a decade and look where he is now. He's a mess, he's a cliche and now we know he sexually attacks women. Yes a …
Source:: Cele|bitchy – News
(Visited 6 times, 1 visits today)