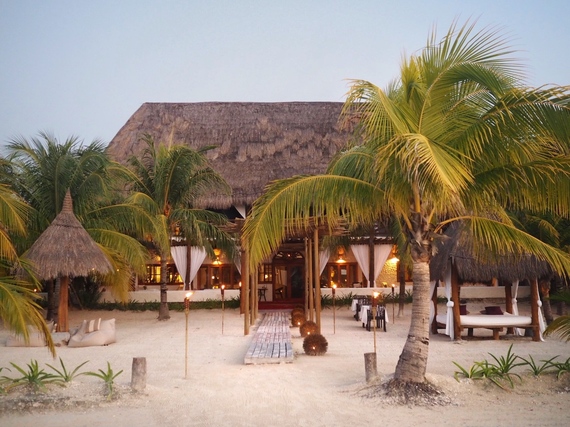 "Welcome home", I was told with a smile as I stepped into CasaSandra after a mammoth 20 hour journey from London to Holbox Island and it felt like home. All my worries and apprehension were washed away the moment I walked up the candlelit footpath of the boutique hotel. My Mexican adventure had begun.
"Wherever you go, becomes a part of you somehow." Anita Desai
HOLBOX ISLAND
Holbox island is located about a two hour drive and thirty minute ferry from Cancun airport, although you can get to the resort by plane if you're willing to part with a small fortune. It's home to only 2000 people, whale sharks and over 150 different species of birds, including flamingos.
As I nervously walked into the hustle and bustle of the arrivals gate at Cancún airport, I was greeted by a man holding a white sign saying "Ashley Luis". Once I had tripped-checked that I was definitely going to the right destination and wasn't taking the ride of my Mexican namesake, I found myself on the drive to Chiquilà making it to the top deck of the 9pm ferry, feeling the sea-air against my skin and watching the star-heavy night sky. I couldn't help but scan my fellow passengers trying to gauge what type of people I might meet in paradise: I suppose part of me was dreaming of meeting my dream man or my best friends on day one, but sadly my fantasies weren't met.
My hotel was beautiful, and I'm scared in giving it the praise it deserves my words will either not do it justice, or feel insincere. It's a boutique hotel whose luxurious rooms and suites fit the rustic feel of the island defined by its handmade Mexican and Cuban interiors, along with the works of art of its Cuban artist creator Sandra Perez Lozano. My favourite thing about the hotel is not the thatched-roof huts (known in Mexico as palapas), its proximity to the most idyllic soft white sand and turquoise blue water, nor the unparalleled kindness of the staff, but it is the attention to detail. Each evening, I would arrive into my room to a different letter on my bed, inspiring me to have a good evening and informing me of activities for the following day. Perfection is in the small details, and I found myself looking forward to these little notes at night. It was …
Source:: The Huffington Post – UK Lifestyle
(Visited 6 times, 1 visits today)