Everything You Need To Know About Week Four Of GBBO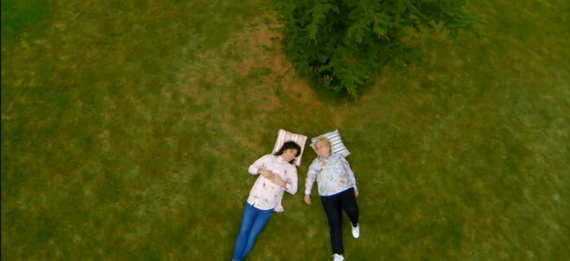 All images, unless stated, owned by Channel 4.
WARNING: This is jam-packed with The Great British Bake Off spoilers because, well, it's all about The Great British Bake Off.
Some quick observations :
1) I'm not the biggest Potter fan, but check out the artistic inspo from the Snape/ Harry's mum flashback:
Source: http://www.fanpop.com/clubs/severus-snape-and-lily-evans/images/27568135/title/harry-potter-7-deathly-hallows-part-2-screencap
Noel Fielding is like Snape's long lost indie-goth cousin.
2) I've always wondered what it would be like to take an acid tab with Sandi, and now I know how it would start.
3) Prue has admitted she doesn't like really sweet things. What the feck is she doing judging a baking contest?
Kooky Noel Bingo time: cross out those 'mistakes flora for furniture' squares.
It's caramel week!
Turns out caramel is a disgusting death syrup filled with fat, butter, sugar and cream. Great.
Butter for days.
Signature – millionaire shortbread – something we know, joy! Sainsbury's need to stock more cottage loaves.
I think we have a Brexiter in our midst. Sandi was not impressed with Julia 'tinkering' with this 'British classic'. Swapping shortbread for a pecan base?! Bloody foreigner.
Turned out Tom and James were attempting pecan shortbread too.
But that's alright is it Sandi?
Source: https://tenor.com/view/mmhmm-sassy-really-sure-umm-okay-gif-5296296
Technical – stroopwafels a.k.a the mother of all colleague holiday treats
And for this we get adverts AND a history lesson? So not fair.
For the first time, not one baker got it right. C4 decided not to shout about that debut.
Kate
She claimed you have to be careful of working with caramel, she's 'already lost fingerprints'…
Nobody asked?
What kind of trail haven't you left behind ma'am?
Slayed her showstopper. Prue asked for the recipe and said it was potentially the best cake she's ever tasted. Ever.
Steven
And Mr Perfect was back. There was James with no sign of clean lines, Kate's was a hot melted mess, and then Steven popped out the most heavenly layers since The Rachel haircut.
As unlikeable as an all A* student is, I'm warming to him and his leg waxing jokes with Sandi, spun sugar hair range with Noel, and commenting on how sexual icing is. Yes. Yes it is.
His showstopper looked incredible:
Fear not young Liam, the cake was all style, and no substance.
Julia
There was strange, quite intrusive, editing when the camera slowly zoomed up on her watching sugar melt.
Someone needs to explain the importance of anonymity during the technical challenge. Her stroopwafels were not a pretty sight, clearly.
Source:: The Huffington Post – UK Entertainment
(Visited 13 times, 1 visits today)