Jake Gyllenhaal walks the red carpet with Boston Marathon survivor Jeff Bauman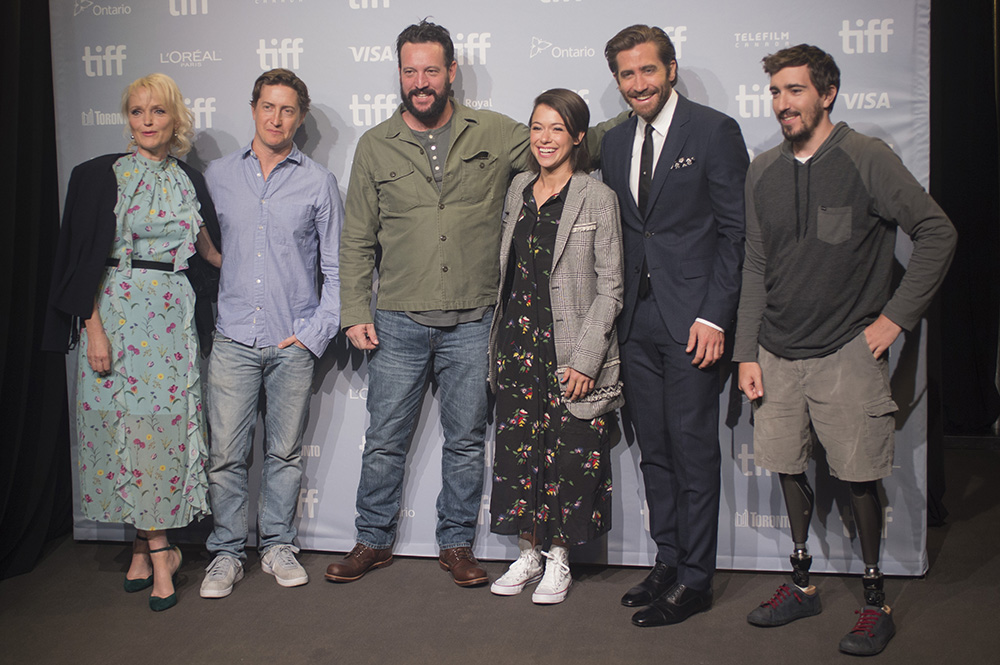 Embed from Getty Images
As an avid runner, the Boston Marathon bombing back in 2013 really affected me. It sent waves of shock through not only the running community, but also the world. The story has already been told on the big screen, in the heart-wrenching Patriot's Day, and now another story from the tragic event is heading to theaters.
Stronger, which arrives in theaters on September 22, tells the story of Jeff Bauman. Jeff was cheering on his girlfriend Erin from the finish line when the bombs went off, resulting in the loss of both of his legs. Jake Gyllenhall is playing Jeff on the big screen and Orphan Black's Tatiana Maslany plays Erin in what is sure to be a heart-wrenching movie, if the trailer is any indication.
The film had its premiere on Tuesday at at the Spaulding Rehabilitation Hospital in Charlestown, Massachusetts. The 36-year-old actor walked the red carpet with the man he played in the film, and both got a warm reception from the invitation-only crowd.
@SpauldingRehab patients and staff offer a warm welcome to @Jeffmbauman and Jake Gyllenhaal at the premiere of "Stronger" pic.twitter.com/iDKdUcy7pM
— Hannah Charney (@hannahcharney) September 13, 2017
Stronger promises a more personal story than 2016's Patriot's Day, which focused on the manhunt for the bombers (and which was also quite depressing). If anyone can effectively tell Jeff's story, it's Jake. The actor told local station WBZ-TV, "From the moment I met Jeff, I was intimidated, I was nervous. I was nervous to try and tell his story as honestly as I could. I didn't really know it when I read the script and I really loved the character, that I would love the guy as much, a lot more actually." Jeff, who was a key witness to the bombing and helped identify the bombers, said the portrayal of his life on the big screen was "very moving."
It seems like the two have really become friends, and are already at the joking around with each other phase. During an interview at the Toronto International Film Festival, Jeff confessed he was "excited" that Jake was playing him and asserted that he loved Jake's body of work. He then paused and joked, "I could leave Prince of Persia." We all could, Jeff. (He added that Bubble Boy was his favorite of Jake's movies.) I …
Source:: Cele|bitchy – News
(Visited 5 times, 1 visits today)