The Apolitical Politics of the Celebrity Hurricane Telethon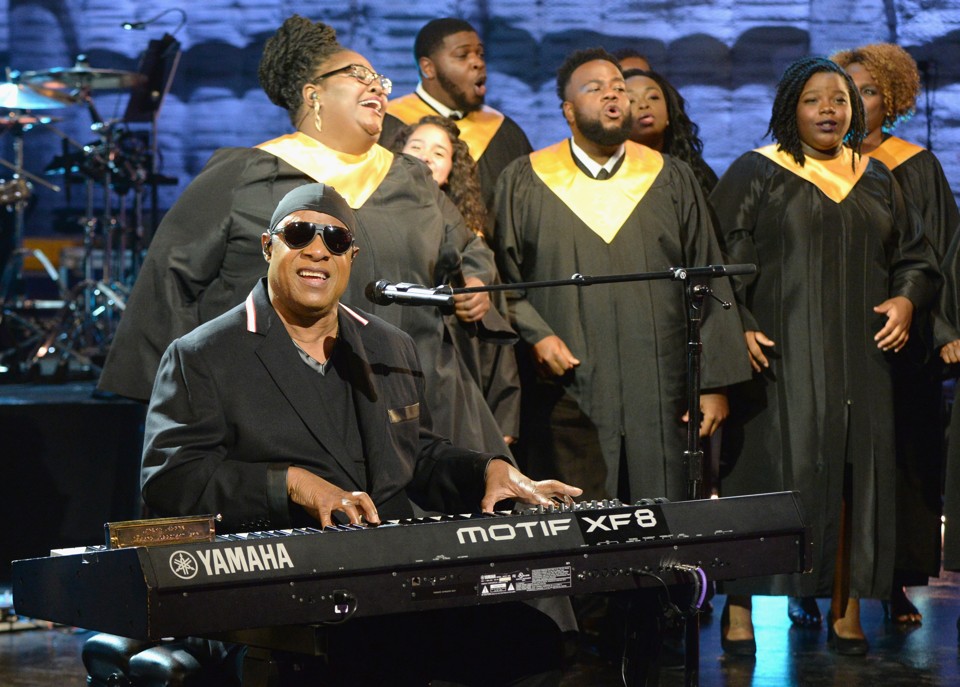 The most famous moment of pop-culture political protest in recent memory happened at a post-hurricane telethon, with Kanye West using his spot in a 2005 Katrina-victim fundraising effort to tell the nation, "George Bush doesn't care about black people."
There was no such memorably inflammatory moment at Tuesday night's "Hand in Hand" telethon for those affected by hurricanes Harvey and Irma. As is the case with these sorts of affairs, the hour was largely a showcase for supergroup performances (check out George Strait, Chris Stapleton, Miranda Lambert, Lyle Lovett, and Robert Earl Keen closing the show with "Texas"). There was also the surreal sight of dozens of superstars smilingly answering phones: George Clooney and Julia Roberts switching handsets, Nicki Minaj making fans squeal, Justin Bieber mugging in the guise of an '80s Miami drug-cartel accountant. So far, the event has raised $44 million to be distributed by Comic Relief USA to charities including the Rebuild Texas Fund, Habitat for Humanity, and Save the Children.
But sprinkled in were a few statements that were remarkable in what they show about our divided times. Many viewers may have heard them as anodyne; others likely reacted a bit like Mike Myers did standing next to Kanye West 12 years ago.
The broadcast began with Stevie Wonder offering an invocation that gradually moved from unifying to confrontational. "We've come together today to love on the people who have been devastated by the hurricanes," Wonder said, warming up for a rendition of "Lean on Me." "When love goes into action, it preferences no color of skin, no ethnicity, no religious beliefs, no sexual preferences, and no political persuasions. It just loves."
So far, fairly inarguable. But then: "And anyone who believes that there's no such thing as global warming must be blind or unintelligent. Lord, save us all."
In the wide swaths of America where climate change is taken for granted and the latest back-to-back catastrophes that have killed dozens and displaced millions seem more than a spooky coincidence, Wonder's is not a particularly provocative statement. Other swaths—those who'd just been called blind or unintelligent—obviously felt differently. Write-ups on conservative news sites were almost immediate, with The Daily Caller reporting that the telethon was "getting political" from the start.
(In the clip of the full telethon MTV posted on YouTube, Wonder's opening comments aren't included; a representative said the omission is from …
Source:: The Atlantic – Culture
(Visited 5 times, 1 visits today)