Bill Skarsgard compares playing Pennywise to being in a destructive relationship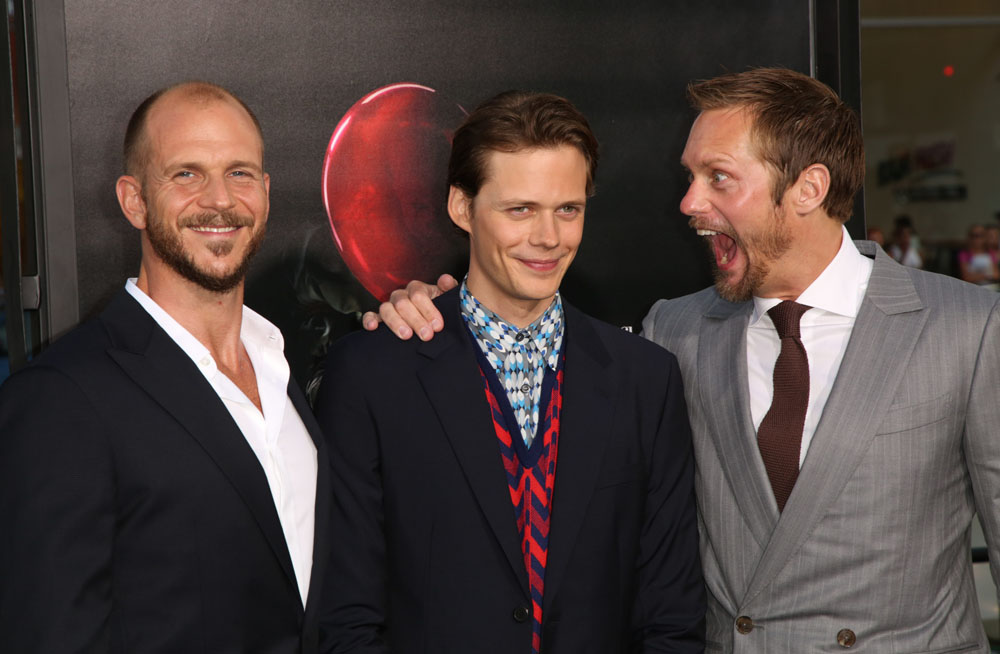 You may have already heard that Bill Skarsgard's performance as homicidal supernatural clown Pennywise in IT made some child extras cry hysterically, despite the fact that they presumably knew they were playing opposite a scary clown. Would you find it surprising to hear that Skarsgard's transformation into Pennywise was so masterfully terrifying that he scared himself? He talked to US on the red carpet for IT (where his currently more famous brother, Alex, trolled the crap out of him as you can see below) and he actually gave some really good quotes about why we need horror more than ever and how he got into the role, which he first found intimidating.
[Bill Skarsgard] revealed how it felt to see himself as the iconic clown, saying, "It was an amazing, terrifying feeling of seeing the makeup go on for the first time."
"Up until that point, I didn't know what the character actually would look like. So every step of the way, I was looking at myself in the mirror, making faces to try to see what this character would eventually be," he added…
Once he landed the role, the actor, 27, admitted that he felt a bit of self-doubt, and didn't want to disappoint the film's director Andrés Muschietti and producer Barbara Muschietti.
"I think the first step was there were people who had to be convinced that I could do the job. There was a long process of getting cast. Once I got the role, I was like, 'I got the role!' Then I was like, 'Oh my God, I got the role. How am I going to do this? How am I going to live up these expectations?'" he confessed. "Andy and Barbara, the director and producer, trusted in me, and I really didn't want to let them down. It was a mixed feeling, but ultimately, of course, I loved the whole thing."
Skarsgard believes there's still a need for horror films for people to escape the reality of what is happening in the world at the moment.
"I think the world seems to be a very scary place now. More so than ever. Watching a scary movie, you get scared, but it's safe. There is no real Pennywise, but there are a lot of real scary things going on in the world," he said. "I don't know if people are into horror films now more than ever. But I …
Source:: Cele|bitchy – News
(Visited 4 times, 1 visits today)