Federer's Wimbledon Win Was Anything but Nostalgic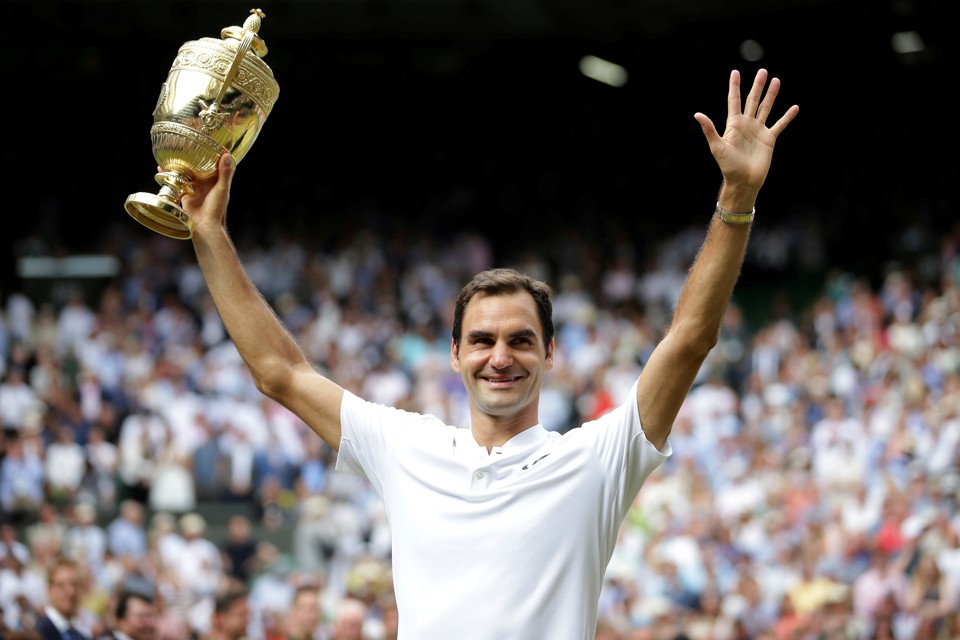 It seems almost bizarre to say that one of the greatest tennis players of all time is proving that he is here to stay. But, a little over a year after Roger Federer's painful, injury-plagued semi-final loss at Wimbledon to Milos Raonic had many claiming the end of a career, the Swiss legend continued his remarkable return to form this year on Sunday, as he clinched a record eighth Wimbledon title. The 35-year-old cruised past a sluggish Marin Čilić in straight sets, 6-3, 6-1, 6-4, in just over an hour and a half. His emphatic victory over the towering Croat seemed almost inevitable, as he came into the match playing some of his finest tennis in years—he hadn't dropped a single set en route to the final and spent almost five hours less on court over the course of the tournament than his opponent.
Federer's victory came off the back of an incredible few months on the tour, in which he won his fifth Australian Open in Melbourne—becoming the oldest man to win a Grand Slam since 1972—and dominated the early hard-court season with victories at Indian Wells and Miami. While many have been eager to bask in the sheer nostalgia of what's been a throwback 2017 season—with Venus Williams in two finals at the majors (she was convincingly defeated at this year's Wimbledon by Garbiñe Muguruza) and Rafael Nadal winning his tenth Roland-Garros—it's increasingly clear that Federer, who is arguably the best player on the men's tour at the moment and will go into the U.S. Open as the favorite, is not simply turning back the clock but is actually urging it forward.
Federer—who, over the last two weeks on the grass in Southwest London, had showcased the continuous evolution in his game since his knee injury last year—flourished against Čilić on Sunday. The Croat started well against an unusually nervy-looking Federer in the first few games of the opening set, and initially held his own as he pounded thundering serves and 75 miles-per-hour ground strokes at the Swiss. But Federer, well aware of Čilić's most powerful tools, was quick to nullify them as he took control of the set. He overcame an early wobble as he saved a break point and then came back to break Čilić in the very next game, relentlessly returning his serve, winning an incredible point at the net, and piling on the …
Source:: The Atlantic – Culture
(Visited 4 times, 1 visits today)