A Hospital Stay Gave Me A New Understanding Of My Brother's Disability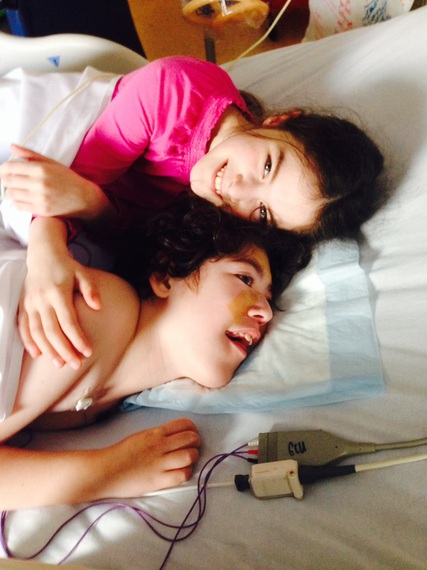 This blog was written by my 12 year old daughter, Jamie Trossman.
Growing up, I learned to treat Jacob like I would if he didn't have
disease (PMD) — except I know not to beat him up. Most girls my age ignore their older brothers. I stopped playing with mine not because he's my big brother, because he's always surrounded by nurses and he never pays attention to me.
Before he got sick and spent almost a year in the hospital, I remember pretending that my Barbie was his girlfriend and learning that he loves the sound of sneezing, swimming, music and bright colours. I knew his preferences as well as I knew my twin sister's.
Over the course of the last few years, Jacob spent over 200 days in hospital. I spent a lot of time with him then, trying to cheer him up, reading to him, watching movies with him and lying on his bed with him. When he was in the hospital, I began to realize how sick my big brother was and what PMD really meant in terms of quality of life.
And then, a few weeks ago, our roles were reversed. He finally got a chance to be the healthy sibling visiting his sick sister in the hospital. That's when I really began to understand my brother in a way I hadn't thought about before.
We — my parents and I — drove down to Sick Kids because I had appendicitis. Obviously, we knew where to go. I was a little nervous because I've never been a patient in the hospital, but I was determined not to show it. How could I be scared to have a tiny appendix surgery when my brother's smallest operation was getting a feeding tube permanently placed in his stomach? How could I be afraid of staying in the hospital for a couple of days when my brother spent almost a year there?
It has been like this for his entire life. This is his norm.
After we were assigned a comfortable examination room in the emergency department, the doctor introduced herself. I couldn't help wondering if Jacob's nurses and doctors introduced themselves. I was allowed the privacy of a bathroom to do my business, and once again, I compared this to Jacob. He has always had women looking at his private parts without asking him if it was OK. Over the course of his life, many nurses …
Source:: The Huffington Post – Canada Travel
(Visited 5 times, 1 visits today)