Who else is worried about Kim Kardashian's new puppy, No-Name West?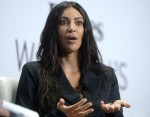 Sister puppies for North & P! Penelope named hers honey. What should we name ours?
A post shared by Kim Kardashian West (@kimkardashian) on Jun 17, 2017 at 8:22pm PDT
I don't have strong feelings about most of the Kardashian clan members owning pets. By all accounts, Kylie and Kendall Jenner are responsible "moms" to their assorted fur babies. I believe Kourtney's kids have animals too, and I'll buy that Kourtney is probably a responsible pet owner. But Kim? Kim Kardashian shouldn't have animals. Her kitten Mercy died after only being in the Kardashian orb for a few months, and after Kim gave the cat away (Mercy was a gift from Kanye). Some people aren't meant to have animals. Kim is one of those people.
So, bad news. Kim got a puppy for North for North's birthday. She's said before that North really, really wanted a dog, and I think Kim and Kanye were looking for excuses for not following through. But North got her dog. North and Penelope actually got sister puppies and Penelope named hers "Honey." North's dog remains nameless.
The puppy is adorable, but I worry that none of this will end well. Incidentally, I'm still without a pet. Is it weird that I still don't feel ready for another animal? I still think about my late dog all the time. I miss him so much.
A post shared by Kim Kardashian West (@kimkardashian) on Jun 18, 2017 at 11:54am PDT
A post shared by Kim Kardashian Snapchats (@kimksnapchats) on Jun 16, 2017 at 10:38pm PDT
Photos courtesy of WENN, Instagram.
Source:: Cele|bitchy – News
(Visited 3 times, 1 visits today)