Jennifer Lopez & A-Rod took their love to the South of France & Paris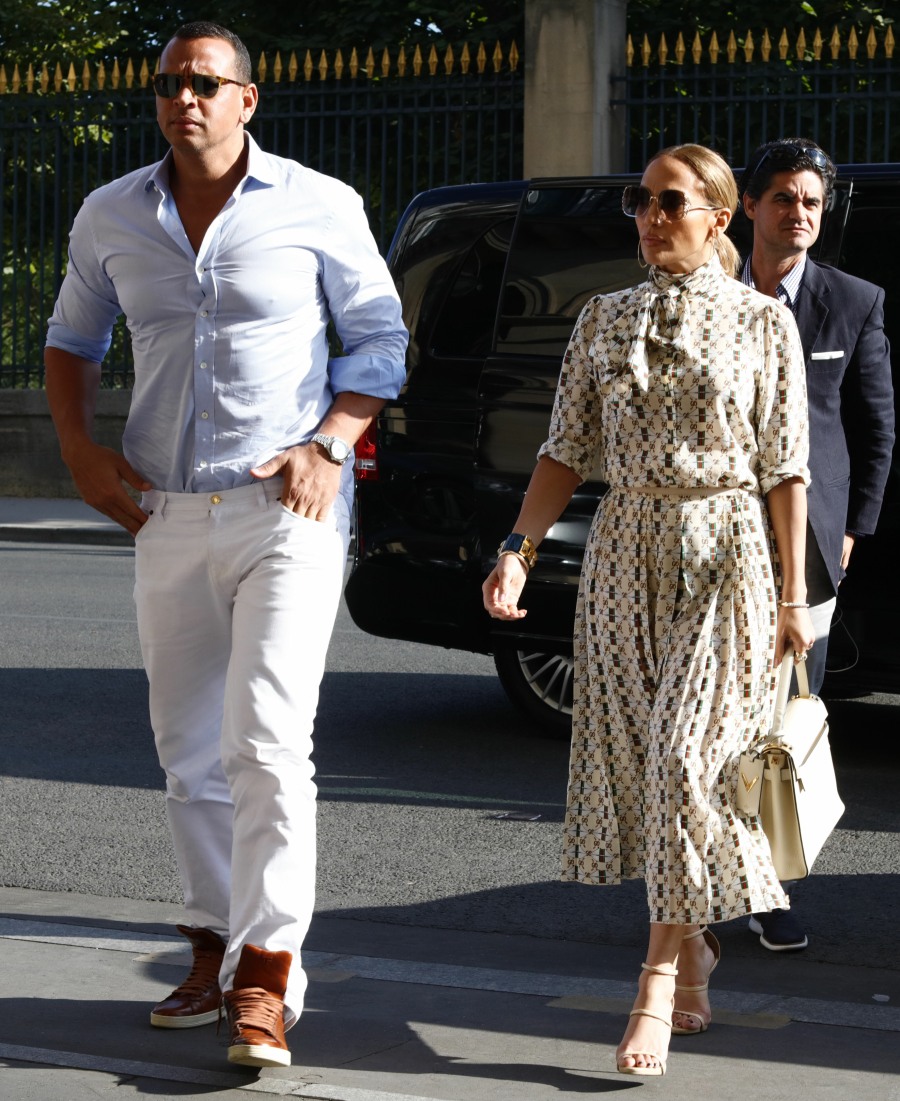 When you're having so much fun you just don't give a 🖕🏽Lol… #whocareswhattheyregonnasay #allihave #danceagain #vegas #miami #montecarlo #sttropez #paris
A post shared by Jennifer Lopez (@jlo) on Jun 16, 2017 at 5:33pm PDT
Jennifer Lopez and Alex Rodriguez are still happening. Please, as if those cheating rumors even put a dent in their LOVE. Jennifer and Alex set off last week for a luxury vacation, and I'm actually feeling this. It reminds me of old school Bennifer 1.0, wherein J.Lo is dating another sleazeball and their flaunting their love through yachts, shopping and makeovers. Jennifer absolutely adores to "Cinderella" her men, and A-Rod seems especially game.
First, they were seen on a yacht – likely rented or borrowed – near Antibes. You can see some photos here. J.Lo wore an unflattering monkini and the whole thing looked like the video shoot for "Jenny From the Block: Part Dos." They went Miami to Nice, France with Jennifer's manager Benny Medina and "several friends and bodyguards." In addition to yachting near Antibes, they gambled in Monaco and toured the rest of the French Riviera. Then they went to Paris. People Magazine had the breakdown and it honestly sounds like Jennifer is showing Alex her fabulous world AND she's giving him a makeover at the same time.
Alex Rodriguez and Jennifer Lopez have taken their romance to the perfect place: Paris! The famous lovebirds were spotted in the City of Light Saturday, taking in famous sites like the Louvre, which Rodriguez shared snaps from on his Instagram story. An observer tells PEOPLE that Lopez, 47, and the retired baseball pro, 41, also did some shopping at a Chanel boutique on the Avenue Montaigne and a men's shirtmaker near the Champs-Élysées.
"They were close to each other. No sign of any strain between them," the observer says, likely referring to recent cheating rumors that insiders squashed earlier this month. "They were laughing and walking hand-in-hand."
Paris wasn't the only stop on the duo's European vacation. On Wednesday night, they hit a casino in Monaco before heading off to La Chèvre d'or restaurant in Èze, France, for dinner.
"She knows the south of France very well," the observer says of the World of Dance executive producer and lead judge. "She showed [Rodriguez] Monaco, Antibes/Cannes and St. Tropez. She seemed to be showing him places she loves."
The romantic getaway seems to put to rest any and all rumors of tension between the pair — which a source close to Lopez told PEOPLE recently are completely misguided.
"Jennifer knows what's going on. Alex has been very honest," the source said. "She doesn't believe he has gone behind her back since they started dating. They both have a past. Jennifer is focused on now and her future with Alex. She isn't going to let someone from Alex's past ruin what she has with him. Jennifer has never felt more loved and taken care of …
Source:: Cele|bitchy – News
(Visited 11 times, 1 visits today)