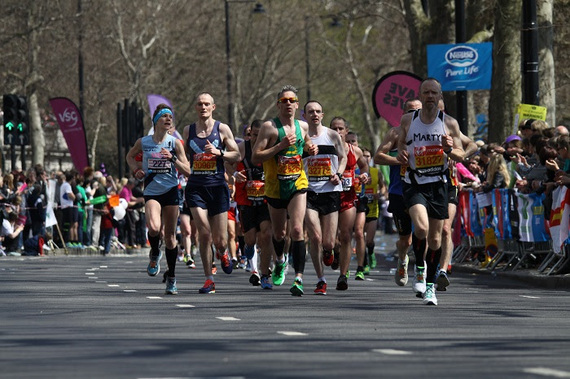 With just a few days to go until the London marathon this Sunday, DW Fitness has put together its top 26 tips for conquering the distance!
Anyone competing in a marathon this Sunday will now probably be in tapering mode, a phase where you will be reducing intensity and conserving energy for the big event in a few days' time. That means fuelling your body with carbohydrates, getting plenty of sleep and reducing the length of your runs.
Despite the reduction in training, this part of your preparation may cause you to feel more anxious than relaxed (shouldn't you be running more?) but it is an essential part of training; whatever you do, don't suddenly push yourself to do your longest run yet!
Here are 26 tips to help you in the build up to the race and how to recover afterwards.
Before and during the marathon:
1. Reduce your training
If you haven't already, significantly reduce your training to give your body a chance to rest. You should use this time to store up physical and mental energy, plus you don't want to risk injuring yourself before the big day!
2. Fuel your body
Treat your body like a machine and fuel it efficiently. While this is your opportunity to load up on carbohydrates for energy, don't use it as an excuse to pig out. Junk food will only hinder your process, so stick to the healthy road until after race day.
3. Set yourself targets
Memorise specific timing goals in your head so you can pace yourself, but don't get too focused on individual miles. Group miles together in 3s, as this will help you to manage the race mentally and keep you focused.
4. Run like clockwork
Run at the same time everyday as the marathon will start at to ensure that your body is in sync when it comes to the big day. You certainly don't want an unplanned trip to the bathroom half way through!
5. Visualise the route
Visualise the route and familiarise yourself with the twists and turns so that nothing catches you out come race day. Some people like to imagine themselves running and winning the marathon for a boost of mental confidence.
6. Make a motivational playlist
You'll be running for a long time and after the adrenalin of the first few miles leaves you, you might struggle to keep yourself focused. Avoid boredom by creating a long playlist filled with songs that will encourage you to push on – don't chance it with shuffle!
7. Do a dress rehearsal
Overheating, chafing, getting blisters – there are a number of outfit disasters that can go wrong and potentially ruin your race. Make sure that you complete at least one long run in the outfit you will be wearing on race day and whatever you do, don't buy new trainers!
8. Sleep
It's vital that you get plenty of rest in the week leading up to the marathon, but it is crucial that you get a good night's kip the eve before. Avoid eating too late and let yourself wind …
Source:: The Huffington Post – UK Lifestyle
(Visited 3 times, 1 visits today)