Top 10 Forests You Should Visit Across Canada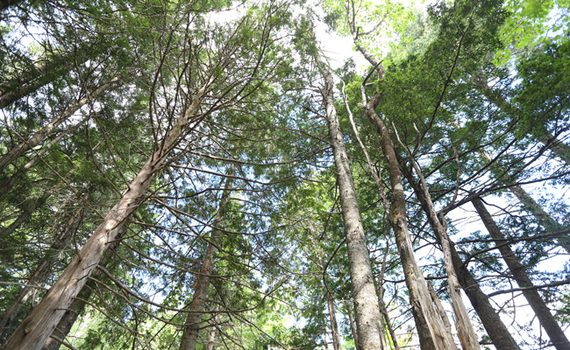 Eastern white cedars (Photo by Mike Dembeck)
Canada is rich in forest habitats, with many unique forests in each province. More than half of our country is covered in forests, and Canada is home to almost 10 per cent of the world's forests. The Nature Conservancy of Canada (NCC) is dedicated to preserving forests coast-to-coast, from the boreal forest in Newfoundland to the majestic coastal forests of Vancouver Island. We've chosen ten of our forest properties that are publicly accessible for you to explore.
1. British Columbia's coastal Douglas-fir forests
Mt. Tzouhalem, British Columbia (Photo by Mike Szaszik)
Chase Woods Nature Preserve is a 100-acre (40-hectare) property located on Mt. Tzouhalem in British Columbia's Cowichan Valley. Dominated by trees clinging to dramatic cliffs rising above Cowichan Bay, Chase Woods is well-loved and travelled by locals and hikers. This old-growth forest includes centuries-old Douglas-fir and arbutus, and pockets of rare Garry oak meadow. Bats and peregrine falcon nest in the cliffs and caves on this special preserve.
2. Alberta's majestic Crowsnest Pass
Crowsnest Pass, Alberta (Photo by NCC)
The remote Crowsnest Pass in Alberta is storied for mining, being an important railway connection through the Rockies, and the disastrous Frank Slide, where the town of Frank was lost in a massive rockslide in 1903. The Crowsnest Pass is also home to an ecologically diverse Interior Douglas-fir forest, where wide-ranging carnivores, elk and deer can call home. Included in this forest is NCC's Lusicich Estate property, where visitors who are willing to venture off the beaten path will be rewarded with a close-up experience of the Phillipps Pass, which transverses through the area and along the Crowsnest Lake, and a look at some of the province's majestic Douglas firs.
3. Saskatchewan's West Parklands Natural Area – Maymont 5
Maymont 5, Saskatchewan (Photo by Don Dabbs)
On the south bank of the North Saskatchewan River, just south of the town of Maymont, Saskatchewan, is a 136-acre (55-hectare) property called Maymont 5. Many rare or endangered species make their home here, including lake sturgeon that plies the waters of the river this property hugs.
This area is a part of West Parklands Natural Area in Saskatchewan, which forms the southern transition to the boreal forest, a type specific to Canada's Prairies.
Visitors to Maymont 5 will find a collection of waterfowl, grassland birds and mammals – but no marked trails. You can start your journey just south of the Maymont Bridge at the barbed-wire fence entrance and walk east across the property, crossing through narrow bands of aspen forest and dry grassland knolls before climbing the fence line to the height of land to watch the waters of the river flow by.
4. Manitoba's Elk Glen
Elk Glen, Manitoba (Photo by NCC)
Elk Glen is a 1,596 acre (645 hectares) property which is right next to the southern boundary of Riding Mountain National Park in western Manitoba. The north of the property consists of mixed-wood forest, transitioning into aspen and oak forests to the south. The olive-sided …
Source:: The Huffington Post – Canada Travel
(Visited 8 times, 1 visits today)