The Most Breathtaking Places To See Cherry Blossoms Bloom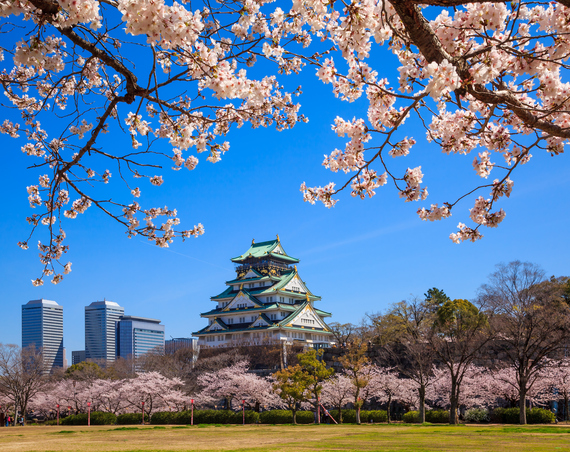 There's not much that can match the raw beauty of Mother Earth. And, every spring, you can count on her to paint the world breathtaking shades of pink and white. Known as sakura in Japanese, the cherry blossom is a symbol of renewal and hope. And while Japan might be world renowned for this beautiful bud, cherry blossom trees can be found all over in the world. With spring officially sprung, we have uncovered a few of the best places to experience these gorgeous blooms.
Osaka, Japan
(Photo: Booking.com)
Osaka is one of Japan's best cities for cherry blossom viewing, with Kema Sakuranomiya Park being the city's most popular location. The park features nearly 5,000 cherry trees lining the Okawa River for several kilometers. You can enjoy the breathtaking view of the cherry blossoms from a riverside promenade, open lawn areas or from a ship cruising the river.
Where to stay: Situated right along the Okawa River, the Imperial Hotel Osaka is a short 12-minute walk to Kema Sakuranomiya Park. The chic décor and relaxing ambience provide an ideal oasis after a long day traversing the city. With six restaurants on site offering a range of cuisine types, guests can dine in traditional style without ever having to leave the property.
Toronto, Canada
(Photo: Flickr)
Each Spring, visitors flock to Toronto's High Park to admire the city's only cherry blossoms location. While Sakura trees are known for their beauty, they are also known for their short blooming periods. Visitors are well advised to stay updated on the progress of the blooms as they usually only last about a week, making timing of your visit essential.
Where to stay: In the heart of Downtown Toronto, the Delta Hotels by Mariott Toronto is the perfect place to stay to experience the hustle and bustle of Toronto city life. With countless restaurants, stores and activities just steps away, you will not run out of things to do and places to go quickly. This property is located near Toronto's subway and streetcar lines, both of which can bring you within a short walk of High Park's Bloor street entrance.
Kyoto, Japan
(Photo: Flickr)
Maruyama Park is the oldest park in Kyoto and is best known for its huge weeping cherry trees. During peak blossom season, the cherry trees are illuminated at night so that people can enjoy them both night and day. Kyoto also has the magical and romantic Philosopher's Path, a walking path from Ginkaku-ji Temple to the Wakaoji-jinja Shrine, lined with cherry blossoms on both sides. The cherry blossom petals floating on the water add to an already visually stunning walk.
Where to stay: The Hotel Gracery Kyoto Sanjo is located less than one mile away from Maruyama Park. Each guest room is equipped with sophisticated décor and air conditioning for your comfort. The on-site restaurant allows guest to savour native delicacies prepared with local and fresh ingredients for breakfast.
Vancouver, Canada
(Photo: Wikimedia Commons)
As winter begins to fade and spring …
Source:: The Huffington Post – Canada Travel
(Visited 8 times, 1 visits today)