Canada 150: 7 Wallet-Friendly Ways To Celebrate All Year Long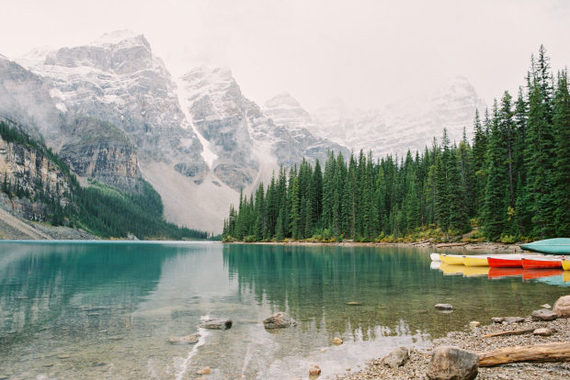 As if you weren't proud enough already, 2017 is the year to get patriotic and celebrate Canada's birthday. This year marks 150 years since the colonies of Canada, Nova Scotia and New Brunswick formed the Canadian Confederation on July 1, 1867. And, while that day has always been a major time for Canuck pride, who would turn down an extra reason to celebrate?
So, if this year's sesquicentennial anniversary has you in a patriotic mood, turn that energy into momentum and get out to celebrate our great country this year. To help you figure out just how to do that,
What better way to say "Happy Birthday, Canada" than by opening the country's national parks to visitors, all for free? For all of 2017, Parks Canada is offering its Discovery Pass, which will allow visitors to enjoy national parks, national marine conservation areas and national historic sites across the country, free of charge.
Toronto: Attend (possibly) the largest rock performance ever
Canada Rocks 150 is a not-for-profit group in Toronto aiming to drum up 1,500 musicians — from vocalists to keyboardists, guitarists and more — from across Canada and the rest of the world to break the Guinness World Record for most participants in a band to perform a set list of four iconic Canadian rock songs.
Their GoFundMe page hopes to raise $10,000 to put on the production, with the overall goal of raising CA $150,000 to benefit the musical charity MusiCounts. Canada Rocks 150 is up against stiff competition; the current record is held by the Beijing Contemporary Music Academy, which held a performance featuring 953 participating musicians.
Montreal: Celebrate Montreal's 375th birthday
Canada isn't the only one with a big birthday this year. On May 17, Montreal celebrates 375 years since French missionaries landed on its shores. While it's no 400th birthday, the city's 375th anniversary falls in the same years as the 50th anniversary of Expo 67, as well as the country's 150th, and that's all the reason they need to celebrate.
Head to Montreal anytime this year for events ranging from concerts and art exhibitions to an interactive lighting project that will turn the city's Jacques-Cartier Bridge into a "kaleidoscope activated in real time by the seasons and the energy of Montrealers." The bridge's transformation will be revealed on May 17, the day of the anniversary.
National: Follow the Canadian mosaic program
Art can be a great way to bring people together, so the artists and community builders at Canada 150 Mosaic have been teaming up and recruiting communities and Canadians across the country to lend their walls, their artistic abilities and, in some cases, their faces to help in a national art project.
A handful of communities in each Canadian province and territory will create a mural in their town, which will be made up of between 400 and 750 individually painted tiles depicting that community's interpretation of a train moving through town. Individually, each mural will be a symbolic representation of the local community, but, they will …
Source:: The Huffington Post – Canada Travel
(Visited 5 times, 1 visits today)