17 Affordable Last-Minute St. Patrick's Day Getaways for Canadians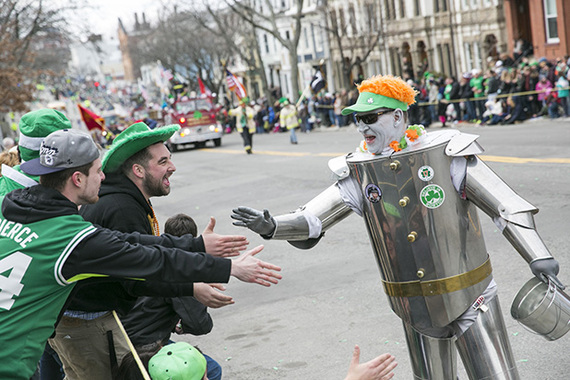 You don't need the luck of the Irish to find affordable last-minute flights for St. Paddy's weekend. March 17 falls on a Friday (a March Break Friday for many), making this an ideal year for a long weekend celebration. And it's not too late to get in on the fun. Cheapflights.ca looked at the average round-trip prices travellers are finding for flights departing for a long weekend (between Wednesday, March 15, and Friday, March 17) and rounded up 17 destinations where the celebrations are epic but the airfares are not.
Pack your bags, grab some festive garb and make your friends green with envy this St. Patrick's Day.
Boston, Massachusetts, U.S. – $338 (CAD)
Image: Greater Boston Convention & Visitors Bureau
Whether you make Boston your sole stop for St. Paddy's Day weekend or combine it with a side trip to nearby Providence, R.I., the main event is the St. Patrick's Day Parade in South Boston on Sunday, March 19. Weekend celebrations also include American Celtic punk band Dropkick Murphys' concert at the House of Blues on March 16 and walking Boston's Irish Heritage Trail.
New York, New York, U.S. – $408 (CAD)
Image: Dominick Totino/nycstpatricksparade.org
New York is hosting celebrations throughout the five boroughs. From the iconic NYC St. Patrick's Day Parade, the oldest and largest St. Patrick's Day parade in the world (the parade was first held in 1762) that marches down Fifth Avenue in Midtown Manhattan starting at 11:00 a.m. on March 17, to "Little Ireland" in the Woodlawn area of the Bronx, there is something for everyone looking to discover the luck of the Irish. Other options include an Irish walking tour from Big Onion Tours on March 18. This family-friendly tour takes guests through the former "Little Ireland" district of the Lower East Side, between City Hall and Houston Street. Don't miss the 42nd annual Brooklyn St. Patrick's Day Parade on March 19, making a loop from Prospect Park West to Seventh Avenue and back. The parade commemorates the Battle of Brooklyn and pays tribute to the Irish for their significant and historic contributions while marching through the neighbourhoods of Prospect Park and Park Slope in Brooklyn.
Kelowna, British Columbia – $453 (CAD)
St. Patrick's Day is the perfect holiday to hop on Kelowna's craft beer scene. Swig adventurous flavour profiles at Kettle River Brewing, raise a glass of IPA at BNA Brewing Co., sample German-style lagers with the city's new kid on the block Boundary Brewing, knock back Lebowski Lager from Freddy's Brew Pub and salute the godfather of Kelowna's craft scene, Tree Brewing Co. at their Tree Brewing Beer Institute. Don green garb and head downtown to partake in festive parties at Carlos O'Bryan's, O'Flannigans, Fernando's Pub and Doc Willoughby's Public House.
Winnipeg, Manitoba – $464 (CAD)
Winnipeg hosts one of the greenest St. Patrick's Day parades. Many of the parade's floats, banners, flags and balloons are made out of mostly recycled, reclaimed and reused items. The Winnipeg St. Patrick's Day Parade is scheduled for March 18. …
Source:: The Huffington Post – Canada Travel
(Visited 3 times, 1 visits today)