7 Fun Family Ski Spots For March Break 2017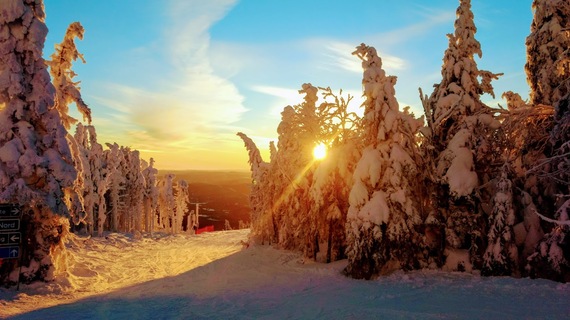 No one could have predicted even two years ago that my family would spend nearly every weekend of our (crazy) Canadian winters on the slopes.
But we do.
Because there's hardly a better way for us to spend time together — being active and continuing to learn new skills and apply them each time we snap our boots back into their bindings.
It's our way of embracing whatever Mother Nature throws at us from December through April. (And throw, she does. We've skied through blazing -32C windchills at Tremblant's summit, freezing rain and slush at Collingwood's beloved Blue Mountain and snow so thick it looks like fog in the distance.)
If you're still on the fence about what to do this March Break, a family ski (or snowboard) getaway — even if none of you ski yet — may just be the perfect choice.
1. Tremblant | Mont-Tremblant, Quebec
We feel about Tremblant the way Dorothy feels about Kansas. And even though it's more than five hours from home, every time we visit, it's a special kind of homecoming. Maybe it's because this is where we became a ski family, maybe it's the pedestrian village magic, but Tremblant has our hearts forever.
MUST DO: Put the kids in a lesson with Tremblant's Snow School so you can get to the summit to enlist an Info Ski Guide to take you all over the mountain for an hour or two. It's free (though they'll appreciate a tip).
MUST EAT: Pulled pork poutine at Le Shack in the upper village.
2. Deer Valley Resort | Park City, Utah
If you want to get your fabulous on, there's simply no better place to do it than in Park City. It's where ultra-chill meets super-luxe and it's also where you'll find some of the world's best powder. Deer Valley is five-star service wrapped up in fantastic skiing. Since it limits the number of lift tickets sold each day, lines are almost non-existent; there's also a free ski valet where you can securely store your skis during lunch and overnight. Heads up — snowboarders not welcome. If you have the need to board, head to Park City Mountain instead. Just expect a few more lineups.
MUST DO: Strap a GoPro onto your helmet and record some of the prettiest trails you'll ever see.
MUST EAT: The jumbo baked sweet potato, stuffed to the brim with every fixin' under the sun, at Silver Lake Restaurant within the resort.
3. Panorama Mountain Resort | Invermere, British Columbia
Ski or board one of North America's top 10 vertical drops, on either beautifully groomed runs or in Taynton Bowl — a former heli-ski site that's now within Panorama's bounds and not only easily accessible, but patrolled and avalanche-controlled, too. The views of the Canadian Rockies are absolutely breathtaking, so be sure you make it to the 7,792-foot summit, where there's even a blue trail to take intermediate skiers down the mountain more comfortably.
MUST DO: The heli-fondue tour, which gives you a five- to …
Source:: The Huffington Post – Canada Travel
(Visited 2 times, 1 visits today)