5 Boutique Hotels Every Traveller Should Visit In This Lifetime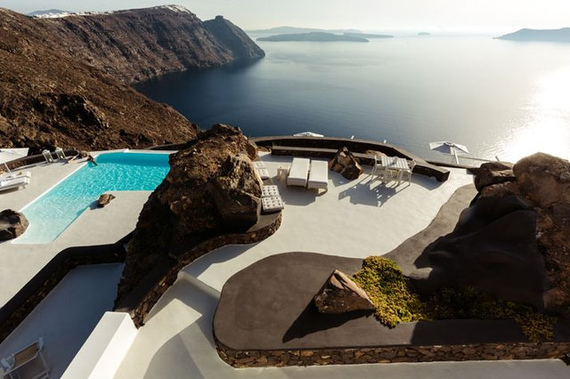 Photo credit: Wicker Paradise
Six charming bungalows on a deserted Barbuda beach, villas perched upon the narrowest stretch of Santorini, and a beautified farmhouse nestled among the vineyards of wine country. These are just a few of the boutique hotels awaiting travellers willing to venture off the beaten path.
These five boutique-style establishments, from California's Sonoma Wine Country to Beijing, China, and Rio de Janeiro, Brazil, offer personalized services, authentic cultural experiences, and enamoring rooms, villas, and suites that simply can't be topped anywhere else in the world.
The Barbuda Belle Luxury Beach Hotel — Antigua and Barbuda
Photo credit: Barbuda Belle Luxury Beach Hotel
Many travellers who escape to the Caribbean for the warm temperatures, turquoise waters, and sugary beaches never venture away from the big-name resort they booked. The Barbuda Belle Luxury Beach Hotel offers an entirely different Caribbean experience, and it's one that will never be forgotten. Located inside Barbuda's Codrington Lagoon Park, this boutique beach oasis features six bungalows perched on a 25-kilometre-long stretch of untouched pink sand. In addition to unhindered views of the surrounding sea and mangroves, guests enjoy a nature-friendly gourmet restaurant, combining local Caribbean flavours with a French flair, an environmentally sustainable bungalow, and all of the makings of a barefoot luxury vacation.
Aenaon Villas — Santorini, Greece
Santorini is known among avid travellers as one of the most scenic islands in the world, and there's no better way to experience the life-changing beauty of it than at the Aenaon Villas. Guests get a first-hand experience of the views they see in the guidebooks, perched atop the narrowest and highest part of the Greek island officially known as Thira. Just seven luxurious villas compose the entire boutique hotel, allowing visitors to live in harmony with the natural beauty of the legendary caldera, rugged cliffs, and the Aegean Sea.
Farmouse Inn — Forestville, California
You don't have to travel to the far reaches of the world to experience one of the best boutique hotels in existence. The Farmhouse Inn is located in the picture-perfect rolling hills of Forestville, Calif., in the heart of Sonoma-Napa wine country. It's impossible not to forget about the stresses of daily life when nestled in the Farmhouse Inn's own tiny valley, surrounded by trees, and across from one of the area's top vineyards. Best of all, this rustic chic boutique hotel is owned and operated by fifth-generation locals who can direct you to the best sights, wineries, eateries, and attractions in the area.
Hotel Éclat Beijing — Beijing, China
Photo credit: Hotel Éclat Beijing
It's hard to image a boutique hotel in the heart of bustling Beijing, but travellers in search of art, culture, and luxury in an ever-moving city setting will fall in love with the Hotel Éclat Beijing. This one-of-a-kind boutique hotel combines the largest privately-owned collection of contemporary art in China with warm hospitality, award-winning cuisine, and opulent rooms to create an atmosphere that is unlike …
Source:: The Huffington Post – Canada Travel
(Visited 6 times, 1 visits today)